Tragedy Strikes
We've all been there. Business was running smoothly. You're making some strong sales and getting all your orders ready to go out to your customers. You're excited! You're on top of the world! You're making your business dream come true, one package at a time. In the heat of all that fervor; tragedy strikes! Not too long after you have your product picked up to be shipped, you're looking through the invoice information for your customer, and you realize that the package is going to the wrong address.
It could happen to anybody. The customer had recently moved, and the new address didn't update in your system. Nothing like sending a housewarming present to the new residents of that address. In the heat of the moment, those "2's" looked a little too close to "5's". It wouldn't be too hard to turn 3rd street into 8th street. Maybe the shipping location looked kind of strange; with international shipping, that's bound to happen. Or there's even the accursed typo; the bane of existence to anybody sitting behind a keyboard.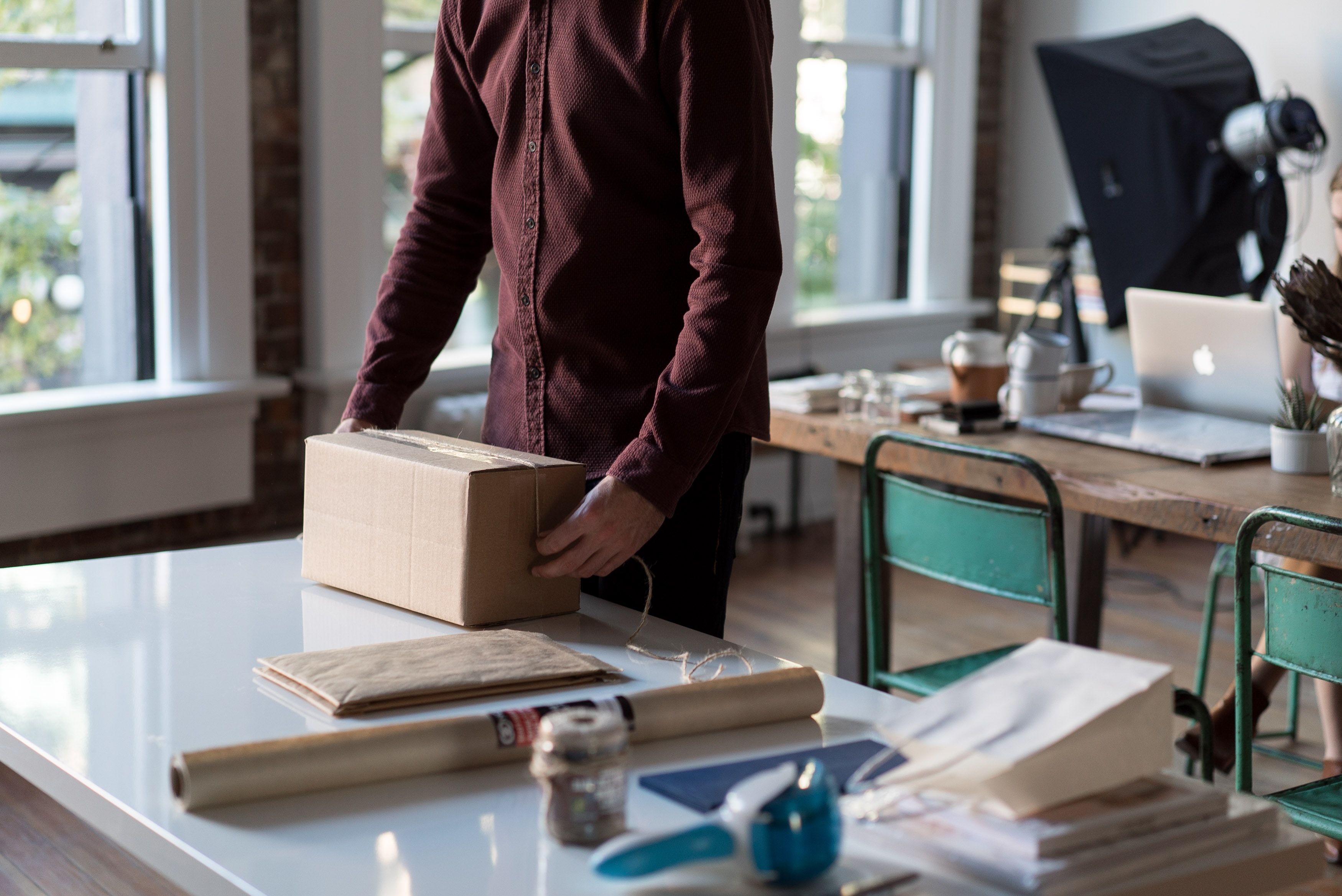 You think to yourself, or perhaps say aloud, "Uh oh! I'm in trouble now. I needed this to go smoothly so I could turn this sale into a repeat customer." As panic sets in, you start looking for options to try and figure out how you can fix this. Anxiety begins to cloud your mind's eye. Whether you're running a small little operation trying its hand with international shipping for the first time or if you're a part of a large organization, this isn't anybody's idea of a good day. You're worried one simple little mistake is going to spiral out of control and create a mess of cosmic proportions.
But don't worry, it's not the end of the world. In any case, it will probably not be the grand mess that you are picturing in your mind. If you spot this issue before the package has been delivered to its final carrier center, you have some options. So, let's talk about what options are available with OptimalShip's partner: DHL International Express.
DHL – International Shipping
If you were shipping internationally with DHL, here's how you can correct the address mistake. Remember that DHL prides itself on shipping packages quickly, so make sure you keep a close eye on the status of the shipment, as the sooner you correct the mistake, the more likely you are to succeed at a redirect. For only a fee of $19.50, you'll be able to fix this issue and rest easy.
For Address corrections when the destination country isn't the United States: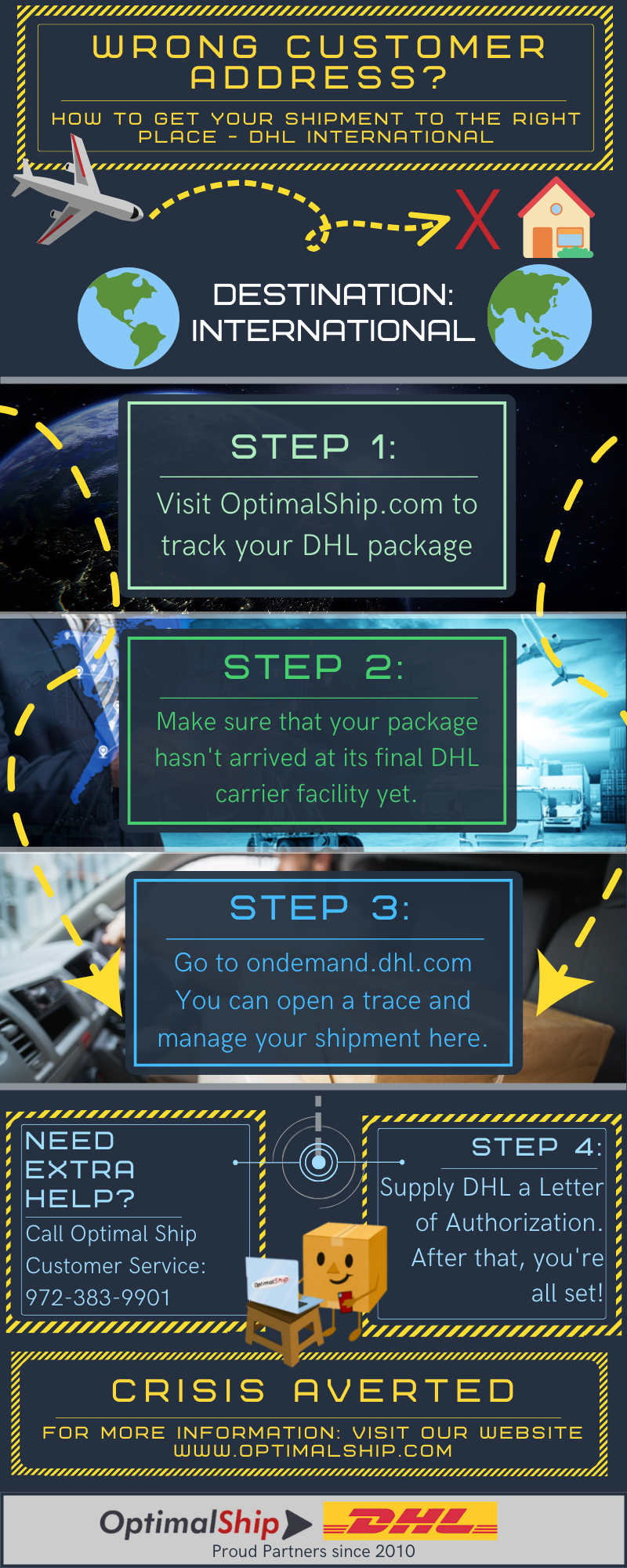 Remember that DHL is all about very fast shipping, so you'll need to keep a careful eye on its tracking status. Here's what you'll need to do:
Track your shipment on optimalship.com to see where in transit it is.

Verify that the shipment is still in transit and hasn't reached the destination service station.

Make sure that you are the freight payor on the shipment before requesting the address to be changed.

Open a trace on the package

Supply DHL a Letter of Authorization (LOA) and reason to change the address. You can also contact OptimalShip Customer Service to open a trace with DHL and supply an LOA.
An Address change may delay the package for up to 48 hours, but the good news is that it will get delivered to the correct address after that.
Here is an example of a Letter of Authorization for you to download and use.
Letter of Authorization Template Download
For address corrections when the destination country is the United States: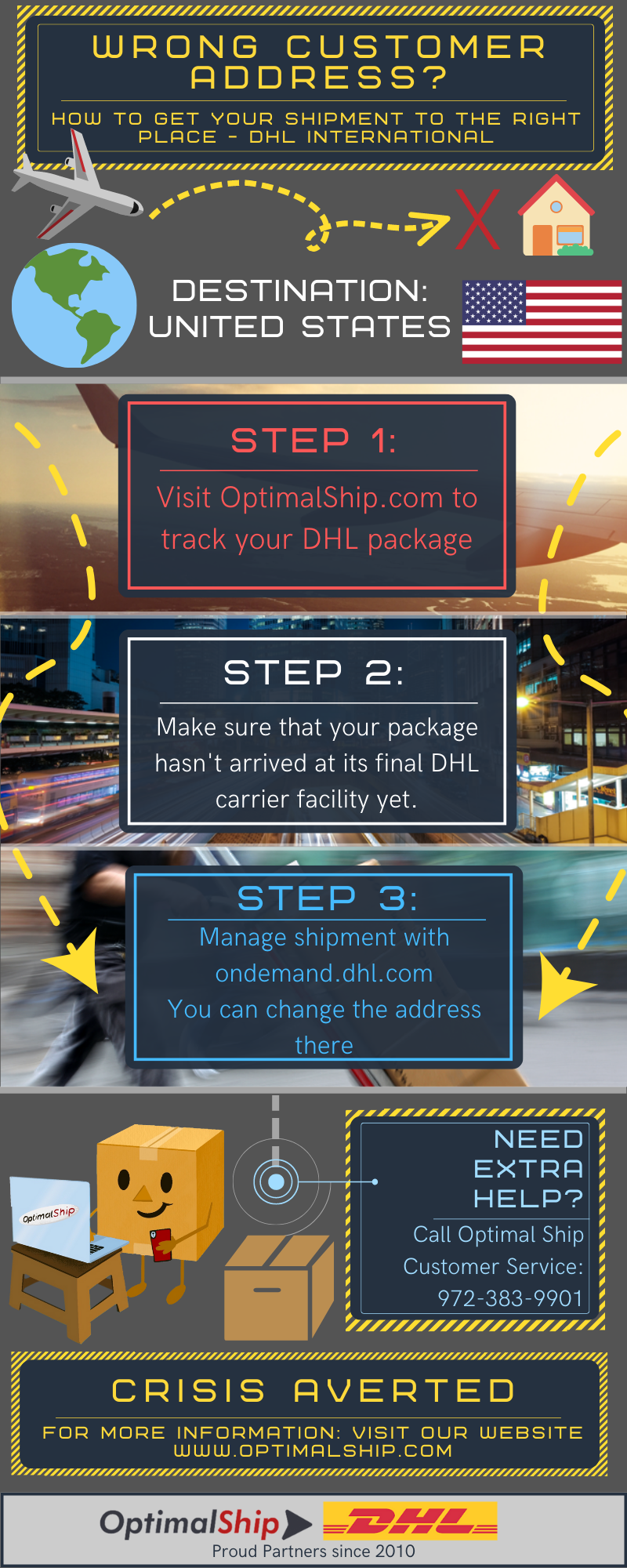 If it's coming to the United States, the process is a little bit easier. You won't need a Letter of Authorization for this to work. If the package hasn't been delivered to the final DHL Service Station yet, here's what you can do:
Visit optimalship.com to track your shipment.

Verify that the shipment hasn't arrived at its final service station.

Go to ondemand.dhl.com

Select USA.

Manage Shipment as a guest.

Put in the waybill number.

Do the captcha check.

Get a code to email or to your phone

Use that code on ondemand.dhl.com

Finally, you can change the address without an LOA.
After that, the package will be on its way to the right place wherever in the United States it is.
Conclusion
There you go. Now you have some options to work with. So, take a deep breath. Remember, this isn't the end of the world. This happens to the best of us. If you catch the mistake very early on, you'll be able to get the situation under control. Remember also that you can always call OptimalShip's customer service who will be happy to take care of all this for you. Their number is 972-383-9901. We hope this helps you and helps put your concerns to rest.