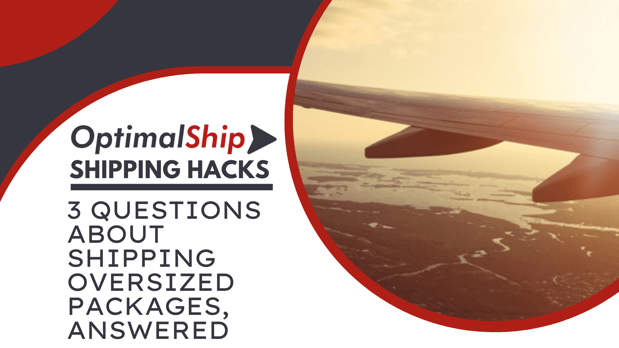 Have you ever wondered how heavy, large, or bulky items get shipped internationally? This can be very important to ask yourself as your business expands into the international market. Perhaps you haven't had to ship anything larger than a simple box before. But now, the needs of your clients require you to increase the size of your shipments along with your shipping knowledge.
Let's say you just landed this new, huge client. Thanks to his needs, you're getting ready to take your business to the next level. But there's a problem. He is located in Japan and will need large quantities of your product, to the tune of several pallets of the stuff. You start thinking about the process of shipping the goods and you find yourself coming up with more questions than answers. You end up thinking, "How do I even put this shipment together?!"
Don't worry! You're not the first person to be in this situation. There is no reason to go and cancel on your new client. Like with everything in international shipping, you have some options; so, let's go over them together:
Please note first that this information will only cover OptimalShip's exclusive international shipping partner: DHL Express.
#1: How Big is Too Big?
First, let's discuss the difference between actual weight and dimensional weight. Let's say your Japanese client runs a gym, and he's buying weights from you. The package may not be large, but it's very heavy. On the opposite side of the coin, maybe he's running an auto shop and likes your particular brand of paper towels. It may not be heavy, but it's sure going to take up a lot of room on the plane. That's why it's important to understand the difference between these two weights. You'll need to consider where your package fits on both scales.
Actual Weight: What your package weighs on a scale.
Dimensional (Volumetric) Weight: The total of your shipment's length x width x height divided by 139. Essentially, how much space it takes up on the plane.
With that in mind, here are the weight and size limits that you have to work with. Think of this as sort of a three-tier system. The first is what you can ship without facing a surcharge. The second is what's still possible, but requires the payment of a surcharge. The final tier consists of items that can't be shipped at all. As stated before, this information will apply exclusively to DHL Express:
Your shipment can be shipped without a surcharge if:
Single Item Weight (Scale and Dimensional): Less than 150lbs (70kg)

Dimensions (L, W, H): All sides less than or equal to 48in (120cm)
A larger shipment can still be shipped but will require a surcharge ($94 per piece) if:
Single Item Weight (Scale and Dimensional): 150lbs-2,200lbs (70kg-1000kg)
*Dimensions: Any Side: 49in-118in (121cm-300cm)
A shipment cannot be shipped on DHL Express if:
A single piece exceeds 2,200 lbs (997kgs)

A dimension exceeds 118 in (300 cm)

Total shipment weight is over 6,600 lbs (2,993kg)
*Note that if a dimension is exceptionally long, or a piece is over 150lbs, your shipment may require a special booking with DHL so that an appropriate vehicle can be sent. A huge pallet can't be picked up in a small van after all. A box truck is often required for anything over 150lbs. There are also special trucks with liftgates, a special platform that will lift heavy shipments into the truck. To arrange a special booking, you can call OptimalShip customer service to arrange that or leave a note in the "additional instructions for courier" section when you prepare your shipping labels online.
#2: How Should I Prepare a Large Package?
The short answer is: it depends…
Satisfying answer, right? Different items require different attention.
This is going to depend entirely on the nature of what you're shipping. If it is a single, large item like a piano that's being shipped, there aren't a lot of ways to break it down. In that case, However, if you have the ability to break down your shipment into several. If your shipment is something like that, put it on the smallest pallet that you can without having the product hanging off the edge. That'll cut down on its dimensional weight. Just be sure to fasten that item to the pallet well. Or else, that piano will probably play its last tune a couple miles above your head.
Let's say whatever you're shipping fits conveniently in boxes. That's great! You can avoid oversize or overweight surcharges on the multiple pieces. In this situation, you'll have two options:
Ship them as loose cartons.

Stack them all on a single pallet.
Palletizing will often be your best choice. You'll have the oversize surcharge, yes; but you're able to get your delivery out in fewer overall shipments. In general, that approach will be the key to getting the best deal for fast air service. Try out our quote tool so you can see what kind of a difference a change like that can make for you:
OptimalShip Quote Tool: Optimal Ship - Sign In
Overall, the way to get the best deal on a large shipment quote is to break it down as small as you can and stack it as well as you can. If neither of those are going to work for your situation, you should consider other freight options or consider using ocean freight.
There's NO EXTRA CHARGE with DHL Express as long as your shipment as a whole is less than 6,600lbs (3000kg) AND that no piece is greater than 150lbs (70kg) or has a dimension longer than 48in (120cm).
For more information, check out our packaging guide: Tips to Packaging Your Valuable Goods (optimalship.com)
#3: What if My Shipment is Too Big or Too Awkwardly Sized?
First off, let's look at a package that would be awkwardly sized. Let's say your Japanese client wants something very personalized. It's probably not going to fit neatly in a nice, square package. Here are a couple of examples of what that can look like:
On the left example, you have a package that's non-stackable because of its awkward shape. On the right, you have a pallet that's awkwardly stacked because of that single extra box on the top. Everything here is within DHL's requirements except for the shape of the packages. In either case, you'll be able to successfully send these packages through DHL Express for a fee of $300 per piece.
If your shipment is too big (either dimensionally or on the scale), normal DHL Express rules won't be able to help you in this case. You'll need to explore new options to get your product from point A to point B. That's why your best course of action is to talk with somebody who's an expert in the world of international shipping. Someone who will help walk you through your individual options and help generate the best fit for what you're looking to have delivered. Please don't hesitate to contact us for a consultation. Here's our customer service line: 972-383-9901