Proper documentation when shipping internationally is essential. Otherwise, your shipment may not clear customs or even arrive successfully in the destination country. You don't want your goods to get stuck only part-way through the process! Not only will it be difficult to reclaim your goods, but you'll have an angry, upset buyer on your hands.
To avoid troubles with your export process, make sure you know what shipping documentation you'll need from the get-go. By preparing well, you can ensure a smooth shipment, happy customers, and fewer headaches for yourself. So, what are the documents required for shipping overseas? Let's take a look.
Shipping Documents You'll Need to Ship Internationally
International shipping involves different paperwork than the documents required for domestic shipping.
Are you ready to make your checklist of documents required for international shipping? See all of the paperwork you'll need below:
Customs Invoice
Any product shipment that is travelling internationally will require a customs invoice to travel along with it. This invoice is what customs will use to clear the shipment, and assess duties and taxes. They will also use the customs invoice to identify the commodities w/i the shipment, and make sure that no additional paperwork (CITES certificate, Proof of Value, Treated Wood Certification, etc.) is required for that particular commodity.
There are 2 types of customs invoices; commercial and pro-forma invoices.
While they make look similar, there are some important differences between a commercial and pro-forma invoice.
Namely, the pro-forma invoice is an estimate, while the commercial invoice is a bill and is a final statement of the costs for the buyer. Details on the pro-forma invoice may indicate how much variance in cost may be expected and also detail which variables might change the cost. For example, material costs, currency exchanges, or international fees may change, resulting in a change in the final commercial invoice amount.
The main purpose of the pro-forma invoice is to provide a value of goods for making it through customs. After the goods have been received by the buyer, the seller will still send a final commercial invoice so that payment can be made.
That said, the pro-forma invoice estimates the final costs as closely as possible so that the buyer can budget and prepare to make the final payment. The pro-forma invoice is differentiated from a commercial invoice with the words "pro-forma" written across the top.
Certificate of Origin
Some countries may require this form as one of your international shipping documents. This certificate, often provided by an official body, identifies where the goods originated. For convenience and to save time, check to see if electronic certificates of origin are available and if they would be accepted by the destination country.
Certificate of Free Sale
International trade agreements, including some free trade agreements, require that you submit a certificate of free sale. This international shipping document provides information that will help with customs clearance if you're importing a new product.
What does it do exactly? It gives the other country's customs a heads up that your product can be sold freely and without restriction in the country of origin. This information usually means your product can enter the new country without any further processing.
Electronic Export Information (EEI)
You may be required to file an EEI, formerly known as the shipper's export declaration. According to the International Trade Administration, you need to file an EEI if "the value of the commodity classified under each individual Schedule B number is over $2,500 or if a validated export license is required to export the commodity."
To file the EEI, you can use the Automated Commercial Environment (ACE) and Automated Export System or AES. It's a system that automates shipping paperwork electronically to make sure that the shipment is compliant with customs and U.S. law.
Letter of Instructions
Another essential document for international shipping is the Shipper's Letter of Instructions. This document may give the freight forwarder limited Power of Attorney to act in the best interest of your shipment should it run into trouble. Plus, the Letter of Instructions is also just a great way to make sure that everything about the shipment is clear.
Your letter of instructions may also give permission to your freight forwarder to file using the AES on your behalf. Doing this can eliminate headaches and make your international shipping process easier. If you go this route, you'll need to include all the details the forwarder will need in your letter of instructions.
If you decide to do it yourself, using the AES as an exporter is straightforward and easy for most shipments. Filing yourself can also save costs.
Bills of Lading
A bill of lading is one of the most international shipping documents. It's a document that you provide to your carrier. It basically acts as a receipt acknowledging that the carrier has received the goods and that they'll be delivered at the agreed-upon destination to the buyer. The bill of lading should include a detailed list of the goods and the final destination for that particular carrier. When it comes to international trade, it's not unusual to need several bills of lading. This is because the trip may include several stages such as land, sea, or air.
Inland Bill of Lading
An inland bill of lading is a specific document used for overland routes, usually by truck.
Ocean Bill of Lading
An ocean bill of lading is provided when shipments must travel via ocean vessel. There are two different types of ocean bills of lading or sea freight documents. They are a straight bill of lading and a negotiable bill of lading. A negotiable bill of lading is unique in that it can be transferred to a third party.
Air Waybill
The air waybill is a bill of lading that applies to shipments transported via air carrier.
Country-Specific Paperwork
When exporting from the United States to other countries, your export shipment may require additional paperwork. For example, the U.S. Department of Commerce recently issued regulations for international shipping to Russia, China, and Venezuela. While shipments are still legal, you will have to file additional forms. You can see the full list of regulations for exports detailed in the Commercial Control List here.
Bank Draft or Documentary Collection
A bank draft or documentary collection is one way for the person shipping goods to send payment documents and information to the foreign buyer. These forms make it possible for the two banks to arrange payment for the shipped goods.
An alternative to the documentary collection is a letter of credit. It's a legal contract in which the buyer promises to pay for the goods once they've been shipped. To receive payment, the shipper must also turn in the correct paperwork to the bank. This document can protect both parties in international shipping deals.
Other Documents for International Shipping
Are you shipping goods that are out of the ordinary? Some goods like aerosols, chemicals, lithium batteries, flammable liquids, etc. are considered dangerous. When shipping these goods, you'll need a dangerous goods forms or a Safety Data Sheet.
Also, make sure you consult with your shipper about the type of goods you need to ship. If you need to ship dangerous goods or oversized packages, you may have to pack goods a certain way or use ocean shipping instead of air travel.
Need help with shipping dangerous goods? We're here to help! Contact us at 972-383-9901 or at customerservice@optimalship.com and we'd be happy to answer any questions you have.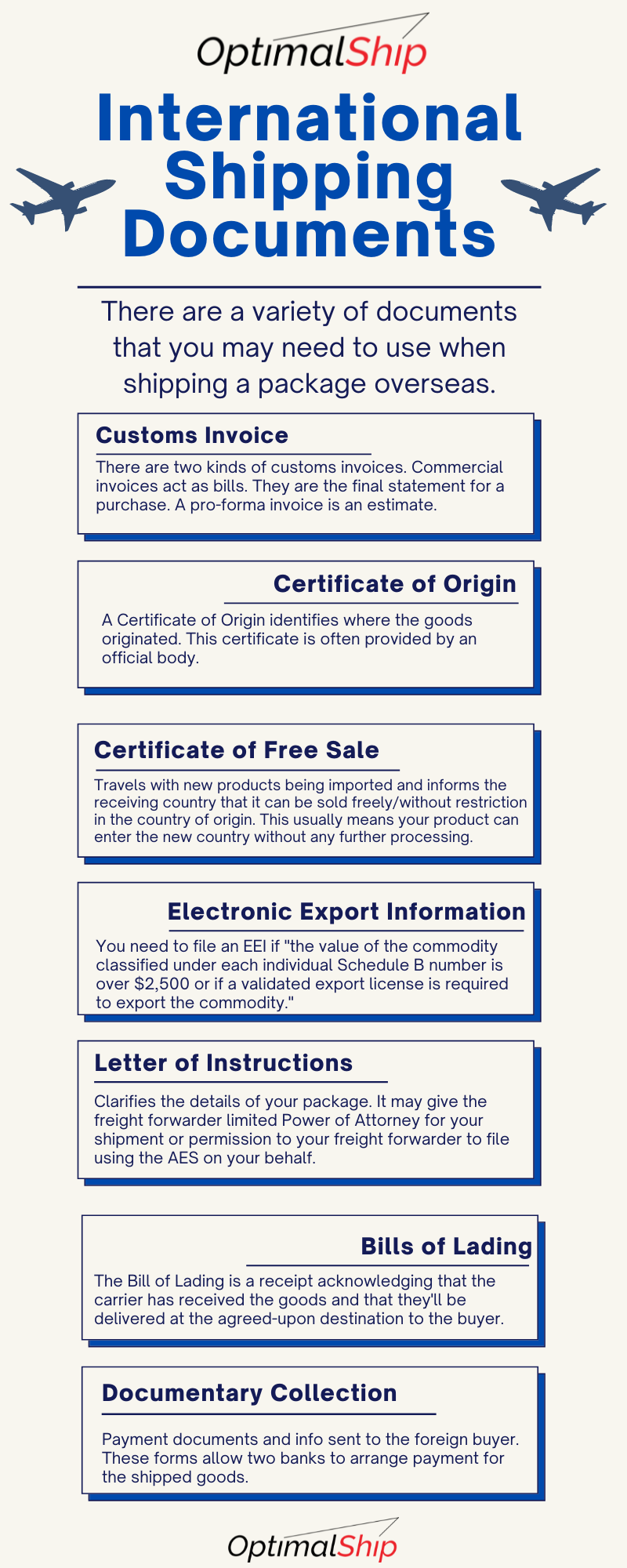 Tips for Preparing Your Shipping Documents
Are you feeling overwhelmed? You need a lot of paperwork to successfully complete your international trade.
Here are a few tips that will make the process a bit easier:
Start On the Right Foot
As soon as you get an international inquiry, start out with the correct forms. Use a proforma invoice instead of a regular quotation form.
Also, go ahead and start a file where you keep copies of all of the forms you're creating for the order.
Automate Your System
As your prepare your first export, make copies of blank forms and keep them in a single file where you can access them for your next shipment. You may also keep notes about the information you needed to file each document to create a running list that you can use in the future. Make your hard work on the first shipment count by using it to prepare for the next one!
Make Copies
Every time you complete a document for your shipment, make a copy of it! This is good practice for your domestic shipments as well.
Use the AES
This system will keep track of your forms, help correct mistakes, and all-around make your life easier. Most importantly, it will keep you legal!
Be Consistent
Any discrepancies between your shipping documents can raise a red flag. For example, your packing list, commercial invoice, and bills of lading should all list the same goods. So, double-check your forms meticulously to avoid any problems.
Get Help!
We're right here by your side to help you make sure you have the complete list of documents needed for your shipment. Give us a call at 972-383-9901 or email us at customerservice@optimalship.com. We'd be happy to give you a hand in preparing your shipping documents.
FAQs on Types of Shipping Documents:
What is the most important document for shipping internationally?
Shipping paperwork is extensive when goods go abroad. You will likely need most or all of the above documents when shipping internationally. If someone else is preparing the shipping paperwork for you, then the most important document you'll fill out is the letter of instructions.
What are the most important documents for customs clearance?
There are quite a few! Shipping document requirements vary depending on what you're shipping and where you're sending it. All of the documents required for shipping listed above will help you ensure your goods make it through customs. So, don't skip any!
Do I need special documents if I am shipping dangerous goods?
Yes. You'll need a dangerous goods form. Specifically, the International Air Transportation Association and the Department of Transportation may require forms when shipping goods by air or truck. Ocean transporters may also have requirements. You can learn more from the International Trade Administration.
Are there additional documents if a freight forwarder is used?
The only additional document you may need is an insurance certificate. Otherwise, your carrier will be able to work with the shipping documentation provided. Keep in mind that freight forwarders are great resources as they must keep on top of new laws and regulations. So, they're a great resource to turn to if you're not sure how to fill out your forms or if you have everything you need.
The Bottom Line on Documents for Your International Shipment
Getting your shipment ready for export and ensuring that it passes through customs without a hitch is no easy task. Yet, once you get the hang of it, filling out each document will get easier and easier. So, be patient with yourself as you prepare the documents you need for your shipment overseas.
Do you need help?
We are happy to help you make sure you have all the documents you need for international shipping. Our staff are knowledgeable and experienced with taking care of these details. Give us a ring! We'd be thrilled to hear from you and are ready to answer all of your international shipping questions. Contact us at 972-383-9901 or at customerservice@optimalship.com.