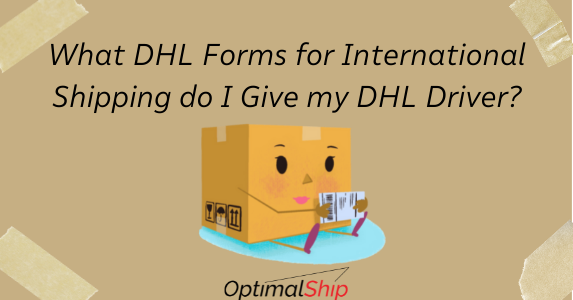 There is more paperwork involved in international shipments than with domestic because it is crossing international borders. Without this paperwork, your shipment will not make it through the customs clearance process. The paperwork sent will include more than just a simple statement of origin and destination. These extra details will ensure that it gets through customs and where it needs to go in a timely manner.
In this article, we're going to explain the paperwork that needs to be put on your DHL package or handed to your DHL courier. It may seem like a lot to cover, but learning this will get you prepared for all your future international shipments. As always, reach out to us if you have any questions. OptimalShip is here to help you.
There are two different kinds of shipments: document and non-document (or product) shipments. Let's look at each one.
Document Shipments
Shipping documents with DHL Express is fairly simple. You only need the air waybill. The air waybill is the international shipping term for your shipping label. It includes information such as origin address, receiver's addres and a brief description of shipment contents. Two waybill documents are created for each shipment. The one with three barcodes you will use as your shipping label and put on your package. The one with just one barcode is an archive label for your records. Some couriers will request this document, otherwise it is intended for your records. You'll use the air waybill with three barcodes as your shipping label. This will ensure that your documents make it through the customs clearance process.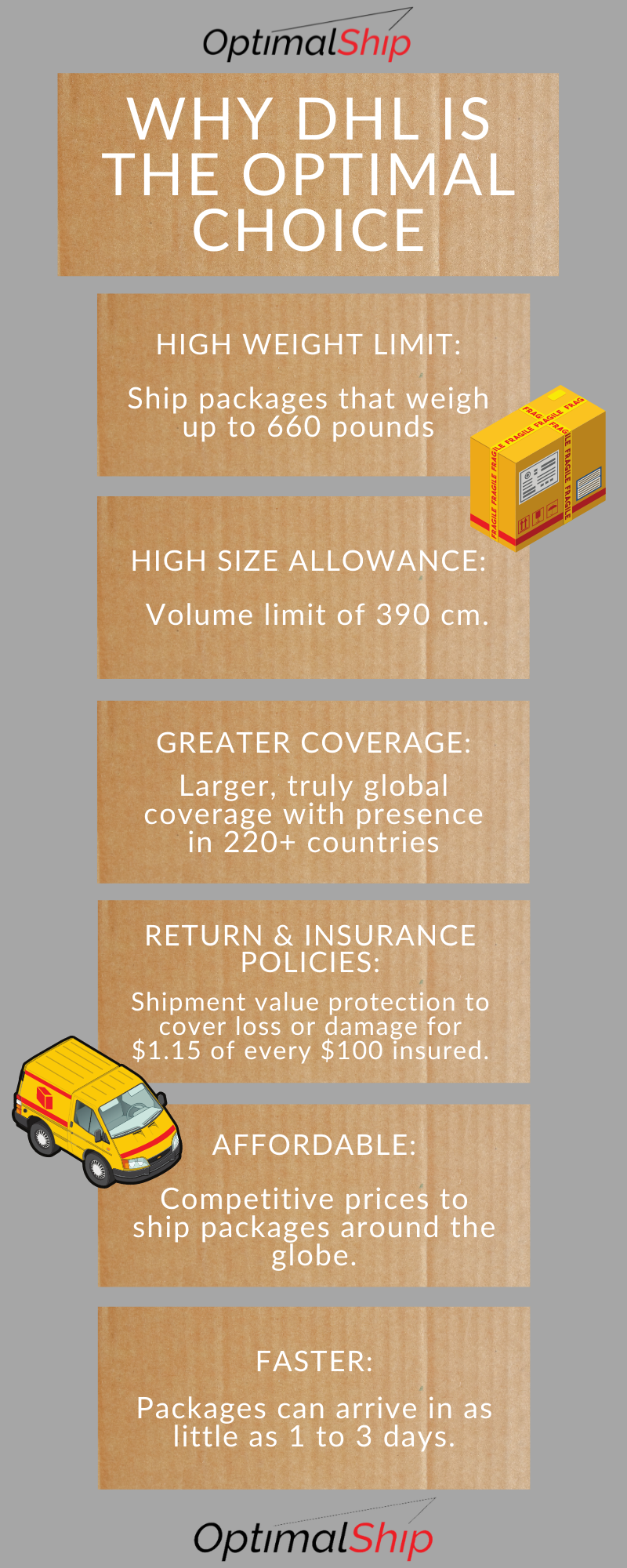 Non-Document / Product Shipments
Shipping products require more documents to pass the customs clearance process. Here's what you'll need to internationally ship your products via DHL Express.
First, you'll need the same air waybill that you need for documents. It's the one with three barcodes.
Second, you'll need two copies of the commercial or proforma invoice. If you are sending samples or a gift then a proforma invoice is needed. Commercial invoices are needed when goods are being sold. If you don't have either, you can substitute it for the invoice that DHL generates on its website. The invoice must be signed and dated before you give it to the DHL delivery courier.
Third, you'll need the Certificate of Origin. This document provides important product information. It tells you where your product was made and manufactured. However, you won't give this to your delivery courier. It's for you to keep in case you need it at a later time.
That's it. Those are the DHL customs forms that you'll need.
Conclusion
Do you need help ensuring that you have the correct forms? OptimalShip is here to help. We assist thousands of customers with their international shipments. If you're local to the Allen, Texas area, you can visit us in-person. Otherwise, you can call us at 972.383.9901. When you call OptimalShip, there's no long wait time. There are no pre-recorded messages on auto replay. A live agent will quickly answer your call and assist you. Whether you have questions about an invoice or air waybill, we're here to help.
Frequently Asked Questions
What is an air waybill?
In essence, the air waybill is evidence that you shipped a package with an international carrier. It's proof that the international airline transported your goods. It lists everything included in your shipment. The air waybill is required, whether you are shipping documents or products.
What is an invoice?
An invoice is one of the required customs forms to import or export goods. While the air waybill acts as evidence, the invoice details the price(s), quantity of items, and value of each piece.
What is a Certificate of Origin?
A Certificate of Origin is proof that the product was manufactured in a certain country. You can keep the Certificate of Origin. It doesn't need to go to the DHL delivery courier. But you might need it at a later date, so keep it on hand.
What is the difference between a document and a non-document?
A document is just that: a document. It could be paperwork, a certificate, a contract, or something else. A non-document is another term for a product. It's not a flat parcel with paper in it. Instead, it's a larger package that contains goods. It could be a small or large box. The point is, it's not a paper document.