Shipping documents internationally can be a stressful experience. Why? Because a different process must be followed for shipping overseas. It's not as simple as slapping a stamp on an envelope and slipping it into the USPS slot.
So, how exactly do you ship documents overseas? Shipping overseas is what we do every day here at Optimal Ship. So, in this article, we'll look at:
The best way to ship documents internationally

The cheapest way to ship documents internationally

Other ways to ship documents internationally
Our goal for this article is to teach you how to ship documents internationally. But more than that, we want you to know your options. Maybe you need to overnight something. Your document is very important, but it also needs to ship very quickly.
Or perhaps you're sending an important package abroad for a relative's birthday. Your package doesn't need to arrive quickly; you have plenty of time. But you want to ensure that it gets there in one piece, without any damage.
Shipping internationally can seem like a tricky, confusing process. But once you know how to ship internationally, it'll be a piece of cake. Optimal Ship is here to guide you every step of the way. We help our customers all day, every day. It's what we do.
Your Step-by-Step Guide to Shipping Documents Internationally
Step 1: What Is a Document?
A document shipment is a shipment that contains only documents and no products. It doesn't matter if the documents are handwritten or typed. It also doesn't matter how many pages there are. Although, the heavier the document is, the more it will cost to send. And you might need a box to send your documents in if a standard envelope is bulging from the size of your package.
Your document should have little to no commercial value. Business documents, even if you're signing a contract, are documents. Commercial value would refer to parcels containing items of value. Clothing would be an example of an item with commercial value. Other examples include car parts, sporting equipment or books.
Step 2: Checking Restrictions
Once you know that your package is a document, it's time to check restrictions. Hazardous materials cannot be sent anywhere in the U.S. or abroad. The following are hazardous items that cannot be mailed from the U.S., overseas:
Aerosols

Air Bags

Alcoholic Beverages

Ammunition

Cigarettes

Dry Ice

Explosives

Fresh Fruits and Vegetables

Gasoline

Marijuana (medical or otherwise)

Nail Polish

Perfumes (containing alcohol)

Poisons
Additionally, check restrictions for the country to which you're shipping your document. That country might have more restrictions that must be followed. If you are only shipping paper documentation, it's not hazardous. You should be fine to send it.
Step 3: The Size and Weight of Your Package
Documents come in different shapes and sizes. Most documents will ship in a standard envelope. There are different sizes of standard envelopes. Sizes are as follows:
6 x 9-1/2 inches

8-3/4 x 11-1/2 inches

9 x 12 inches

9-1/2 x 12-5/8 inches
You'll want 6 cm of space in your package. If you don't have 6 cm, then your package is too small. You'll need to transfer your documents to a larger envelope or box.
Make sure that your documents fit into your standard envelope. Don't try to cram or overstuff your envelope. You might want to save money. But ultimately, it will cost you more money to send a document in an envelope that's too small. It's also a hazard of its own. Your documents could be damaged or destroyed if the envelope bursts open from being too full.
Are you sending hundreds of pages of documents? Is your package the size of a book? In that case, you should use a packing box.
The weight of your package also affects how your documents can be mailed. Weigh your package before mailing it. This will help ensure that you pay the correct cost and have it mailed in the appropriate package. You can take your package to your Optimal Ship office if you don't have a scale. Or, you can take your package to the post office if you don't live near an Optimal Ship office.
Step 4: Sealing Your Package
You'll want to securely seal your package. If your package isn't secure, documents could fall out or get destroyed. That's the last thing you want, especially for an important package. For this reason, avoid using:
Kraft Paper Tape

Cellophane Tape

String
These types of methods work for at-home arts and crafts. But they aren't secure enough for sending a parcel from one country to another.
The following kinds of tape are recommended:
Polypropylene tape (brown plastic tape)

Vinyl adhesive tape (electrical tape)

Fiber-reinforced paper tape (duct tape)
These tapes are typically strong enough to endure the ride. Of course, there's no guarantee that your package will arrive in pristine condition. But electrical tape is a lot more secure than string.
Step 6: Adding Your Shipping Label
Of course, without an address, you can't send your documents anywhere. Do you have enough documents to send them in a box? Place the label on the top of the box. This will help keep the box right side up while it's shipping. That way, the person receiving your documents won't spill them all over the place.
Take the following steps to ensure your documents are properly labeled:
The label should be visible. If the label is on a box, it should not cover any seams. The label could rip and be difficult to read if it covers a seam. Place it on a flat part of the package.

Nothing should cover your label. But your label should cover all other labels. No other addresses should be visible.

It's always best to use a new package. But you can use an old one if you're careful. If an address was written on your envelope in marker, you'll need to cross it out. Otherwise, your package could be mailed to the wrong destination. Or it could be held from not knowing where to send it.

Insert a spare label in your package. This will help recover your package if it gets lost or the label gets ripped off.

Are your documents confidential? You might want to place a "Confidential" sticker on your envelope or packing box. Place this sticker on the opposite side of the envelope. Or place the sticker on the side of your packing box. Either way, keep it away from the address label.

Do you need to include customs documents? Don't just tape them to the envelope or box. There are window pouches that you can tape to your package. The documents can be removed and reviewed, when necessary, then placed back.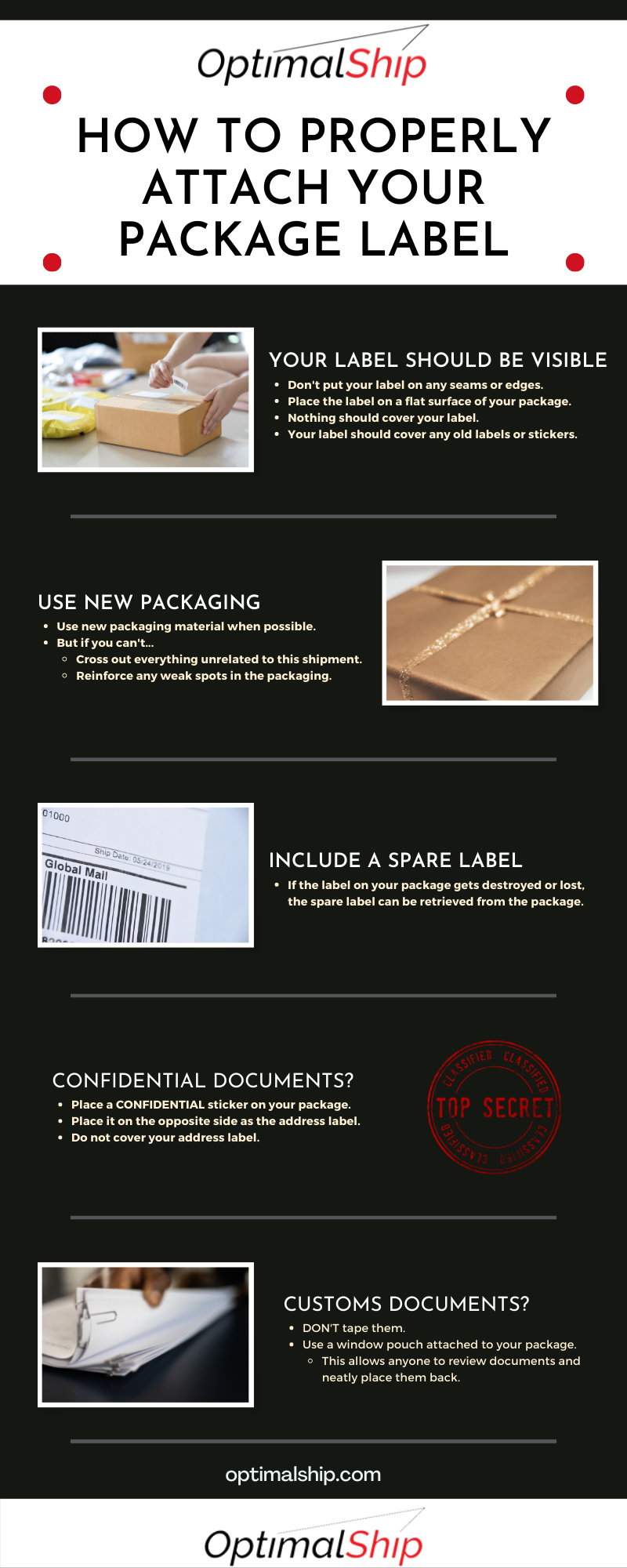 The following information should be included on your packing slip:
o Your name and return address
o The receiver's name and address
o Optional but recommended information includes your phone number and email address
A full description of the contents of your package – list how many documents there are and what they are for.

List how much the package weighs, as well as the dimensions.

List how you want your package transported. Include what shipping protections you would like.

Include payment information.

You don't need to pay duties for documents. Duties only apply to non-document shipments.

If required, list:
o Export license number
o VAT (Value-Added Tax number)
o EIN (Employer Identification Number)
Step 7: The Best Way to Ship Your Documents Overseas
The best way to send your documents overseas is by using Optimal Ship. Do you have an account with us? If so, you can log in and schedule your shipment. Your other option is to call us. One of our live agents will be happy to assist you. We use DHL couriers to ship most documents. By using Optimal Ship, you'll be getting all the benefits of DHL with fantastic, discounted rates.
So, how does a DHL courier work? Once scheduled, the courier will come and get the documents from you. The courier will then take the documents to their location. That, or the courier will deliver them to someone else. That other person will then deliver them.
Step 8: The Fastest Way to Ship Your Documents Overseas
If you're in a rush, you can send your documents quickly. Optimal Ship works with DHL to provide same-day and overnight service. DHL provides these services through Urgent Delivery. You can log into your account to schedule a pickup. Or you can contact us directly. Remember, you'll never wait on hold with us. There are no pre-recorded messages. A live agent will answer the phone and assist you in a timely manner. We'll get your documents overseas as quickly as possible.
Step 9: Tracking Your Package
If your documents are important, you'll want to track them. You might even want to track them anyway. Optimal Ship can provide you with a tracking number. This number is generated once a shipment has been scheduled. You can save it if you schedule your package pickup online. We can also provide it to you if you're on the phone with us.
There are benefits to getting a tracking number. You'll know when your package arrives. But you can also track your package on its way to your destination. Your package will be scanned every time it arrives at a new location. Seeing the progress can give you peace of mind that your package is on its way.
Conclusion
Shipping overseas is more complicated than shipping domestically. But it's very easy to do once you know how. Are you getting ready to ship internationally for the first time? Contact us. It's what we do all day, every day. Optimal Ship is dedicated to safely and quickly delivering your documents. Our partnership with DHL allows us to do just that, while saving you money in the process.
FREQUENTLY ASKED QUESTIONS:
How much does international shipping cost?
The cost of international shipping entirely depends on the size of your package. Do your documents weigh less than four pounds? If so, they'll be cheaper than packages that weigh between four to twenty pounds. The same then holds true for packages weighing over twenty pounds. You can use our calculator to estimate how much your shipment will cost.
Don't like using the internet? It's still easy to find out how much your package will cost to send. Simply contact us, and we'll be happy to guide you through the process. There are no long waits or hold times when you call us. A live agent will answer the phone and quickly guide you through the process.
If you need to convert kilos to pounds or grams to kilos, go here.
Am I able to overnight documents overseas?
Yes, you can overnight documents. You can schedule this online, on the phone, or in person. Ready to schedule your own shipment? Create an account for your business to get started.
How can I ensure that very important documents will get where they need to go?
There are a couple of ways to go about this. You can request a return receipt to be sent to you. There are both domestic and international options for this. So, be sure to choose the international option.
Which courier is best for shipping documents?
Every courier has its pros and cons. USPS, FedEx, and UPS are all options. But here at Optimal Ship, we use DHL. They offer the best rates and customer service. They also handle packages excellently. Few packages get damaged, lost, or stolen when shipped with DHL. With Optimal Ship, you'll receive discounted DHL rates. Plus, you'll get the same excellent service. We can overnight any international document for you.