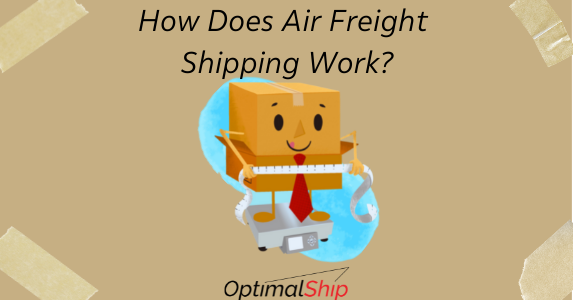 When you think of shipping, you probably think of a truck driving across the country. And while that is a domestic shipping option, it's not the only one. And often, delivery by ground doesn't work for international shipments. So, what happens when your package needs to arrive sooner?
Our solution is simple: air freight. In this blog post, we're going to explain:
What is air freight?

What are the types of air freight?

How can air freight serve your business?
If you have a shipment that you need delivered ASAP, contact Optimal Ship today. We can help you schedule your air freight shipment. We work with DHL to provide highly discounted rates that you won't find anywhere else.
What is air freight?
Air freight is shipping your goods via an air carrier. Air freight is a continual operation and is needed to move things quickly across the globe. Most airplanes flying in the sky are transporting freight. This is even true for passenger airplanes that transport people. Have you flown on a plane recently? Chances are that cargo was on the plane with you. There are also airplanes that only fly cargo to various destinations.
What are the types of air freight?
There are three types of air freight:
Cargo aircrafts are designed for freight. Their purpose is delivering goods. Passengers are not transported on cargo aircrafts. These aircrafts come in all different shapes and sizes. Everything can be transported on cargo aircrafts. Tiny medicine vials and enormous machines alike can be shipped. Additionally, cargo aircrafts can transport hazardous materials that commercial planes can't. With no passengers, the risks are a lot lower of someone getting hurt if something explodes.
Commercial planes are the airplanes you take to go on trips. Any cargo transported on these planes must fit with passenger luggage. Cargo must also meet TSA regulations to prevent passenger or flight crew injuries. Both narrow-bodied and wide-bodied planes can transport cargo. It's a matter of what fits and what doesn't.
Air charter services are the final option for transporting cargo. They're generally used for urgent situations. A charter plane doesn't have to be full to fly. When reserved, air charter services deliver items directly to a specific destination. The energy, mining, and automotive industries frequently use air charter services.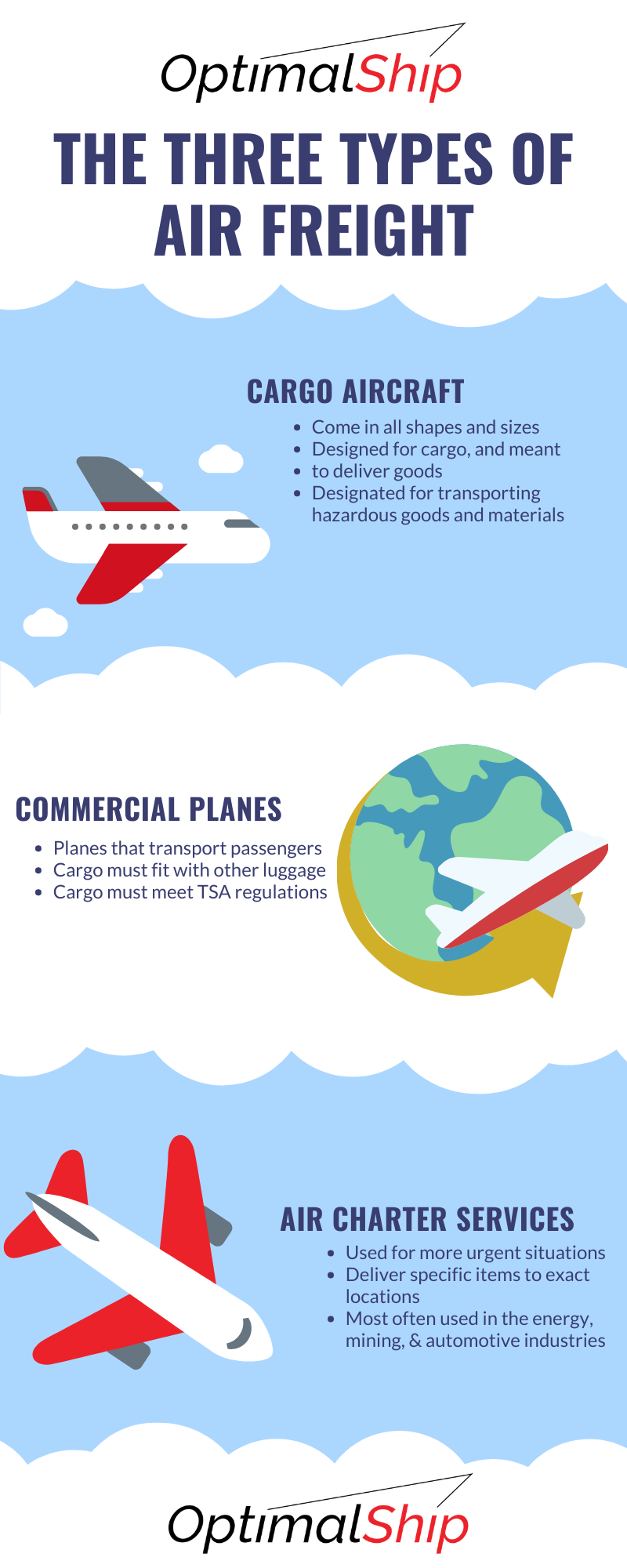 How can air freight serve your business?
Air freight can regularly serve your business. Sure, you might have customers who can wait days to receive a shipment. But what about customers who need their goods now? Air freight will get your goods where they need to go, on time.
You can choose from the following shipment options for domestic shipments:
Same-day air / next flight out
Your goods will be on a flight the same day you book it. They'll likely be on the next available flight.
Your goods will be on a flight that will arrive by the next day.
Your goods will be on a flight in time to be delivered within two days of your scheduled shipment.
Your goods will be on the next flight that has extra room for it. You pay less and still get relatively fast shipping times.
These are your options for international shipments:
This is the standard option. Goods usually arrive in a 7-to-15-day time span. This can be shorter or longer, depending on many factors, including staffing, availability of trucks, planes, and ships, and the general status on the COVID-19 virus.
Express service is for goods that need immediate transportation. These shipments usually take two to three business days.
Conclusion
Air freight shipping is a valuable and useful tool when you need to ship your goods across the globe. What could take weeks via ground or ocean freight takes seven to 10 business days via air freight. There are numerous shipping options. But OptimalShip will save you the most money while providing excellent customer care. Check out our FAQ below, and reach out to us if you have any questions or need help.
FAQs
What is air freight?

Is it the same thing as air shipping?
Air freight is whenever cargo is loaded onto an airplane for transportation. Air freight and air shipping are the same thing. There are three different kinds of air freight:
Cargo aircraft

Commercial planes

Air charter services
How do I send air cargo?
Your goods will be shipped via air cargo if you request same-day or next-day air for your shipment. Air cargo is the only way to send your goods that quickly.
How long does air freight take?
How long air freight takes depends on what shipping option you choose. The more you pay, the faster it ships. Your goods can arrive by the end of the business day if you need them to. The only caveat is finding a plane that's available to transport your goods.
Who ships air freight?
Most shipping companies ship air freight. Here at Optimal Ship, we're partnered with DHL. DHL ships air freight for domestic and international goods every day. Other shipping companies who ship air freight include FedEx and UPS. These carriers work. But you won't receive the same highly-discounted rates that you'll get with us.
Why should I ship air freight?
Do you need your goods shipped quickly to a far-off destination? Air freight is your best option. Air freight can deliver your shipment across the country in a matter of hours. It can deliver your shipment across the world in just one to two days. Air freight might be your only option in some cases.
Shipping via air vs. Sea
What's the difference between air freight and sea freight? Air freight flies in a plane in the sky. Sea freight travels across ocean waters. It is an option, but it could take weeks for your shipment to arrive. Only use ocean freight if there is ample time for the goods to arrive.
What products can be shipped by air/which products can't be?
What products can be shipped via air depends on what type of plane is being used. Cargo airplanes can ship hazardous materials (HAZMAT) that aircraft planes can't. Have questions about what you can or can't ship? Contact Optimal Ship today. We will review your gods to ensure that they can be shipped.
Is air freight/air shipping expensive?
Air freight can be expensive. It depends on how you send your shipment. Sending your goods via next flight air will cost more than deferred air will. Next time you have a shipment, contact Optimal Ship. We work directly with DHL and offer highly discounted rates. These discounted rates aren't available directly via DHL. They are only available via Optimal Ship with DHL. The more you ship, the higher your discount. Contact us today to get started.
Is air freight done globally or domestically?
Air freight options are available both domestically and globally. There are multiple delivery options for both types of shipments.
For domestic shipments, your options include:
Same-day air / next flight air

Next-day air

Second-day air

Deferred air
For international shipments, your options include: