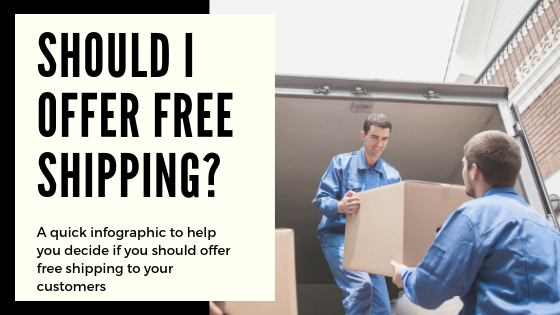 If you need more business, it's likely that you've thought about offering free shipping to people who buy your merchandise, especially if you don't have a storefront. It's become an increasingly demanded and popular option for customers. Amazon does it, Walmart does it, and even DollarTree offers it for shipments sent to your closest store.
Offering free shipping to your customers can help you and your customers because it allows for more streamlined pricing, it increases your competitive edge, and it encourages your customers to purchase, rather than being dissuaded at the last minute when they see the additional shipping cost.
Most of the time, offering free shipping can help your business be more profitable in the long run. Generally, the only reason to not offer free shipping is because it will shrink already small profit margins. If this is not an issue for your company, this may be a great decision for you. We've made this helpful flow chart to help you decide whether offering free shipping is a good choice for your business.




Having trouble getting your shipments, whether you shipped them at your expense or your customer's, to clear customs? This can be an expensive and rather frustrating process, so we've gone ahead and created a customs checklist for your convenience!

Also, call us at 972-383-9901 or email us at customerservice@optimalship.com for help.