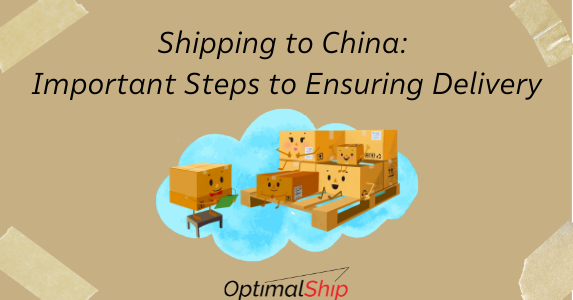 You can ship to China just like you can ship to many other countries. But a shipment to China could take days or weeks to arrive. Being the second largest importer in the world comes with some hiccups. All international shipping options include going through customs regulations. But high volumes of shipments can affect the delivery time for packages.
In today's blog, we're talking about shipping internationally to China. We'll look at the factors that affect shipments and how you can be proactive. There are steps you can take to ensure that your package gets where it needs to go as quickly as possible.
Here at OptimalShip, we work with customers who ship to China every single day. If you have any questions, please don't hesitate to contact us. Our partnership with DHL allows us to provide competitive shipping options.
Factors That Affect Your Shipment
The Airport
There are multiple airports in China that accept imports and process them through Customs. The busier the airport, the more people and packages will be entering and exiting the country. This can affect the processing time for your shipments to be sorted for Customs entry and delivery. We recommend tracking what airport your shipment ends up going to. Most shipments will enter China thru Beijing, Guangzhou, Chengdu, Shenzhen, Wuhan, Xiamen, Qingdao or Xian, which are also some of the busiest airports in China.
Your Destination
China is huge. Not only are there tons of airports, but there are tons of destinations once your parcel leaves the airport. Sometimes ground transportation takes longer than air. Is your parcel going to a remote province? Remote areas and provinces require more transit time.
So, we recommend advising your customers that it could take several extra days to arrive. We also recommend budgeting extra time for your parcel. Sending a package several days before you normally would could ensure it arrives in time for a deadline.
Holidays
The holidays are a busy time for everyone, no matter where you live. But holidays in China disrupt regularly scheduled shipments more than holidays in other countries. Many American holidays shut down operations for two or three days. But in China, holidays like the Chinese New Year can shut down operations for weeks.
The Chinese people take great pride in celebrating the Chinese New Year and other important Chinese holidays. Not everything will close. But some shipping companies might be. As a result, other companies will have to pick up the slack.
This will cause shipping delays everywhere. This is something else you'll need to plan for. Again, sending your shipment as early as possible will help bypass these shipping delays.
Duties and Tariffs
Of course, you'll need to pay duties and tariffs on any international shipment. That goes without question, regardless of the country. China's current tariff rate is currently 9.3 percent. It could change at any time, though. China's VAT tax ranges from 10 to 16 percent, depending on what your parcel contains. Paying duties and tariffs on time will help get your package where it needs to go.
Ship Your Package with OptimalShip
Here at OptimalShip, we work with DHL Express to offer fast, affordable shipping. You'll save time and money by shipping with us. DHL Express is closed for major US holidays, but they don't close down for weeks at a time for the Chinese New Year.
Transit times range from 1 to 5 business days for most shipments. More remote areas can take up to 10 days. The COVID-19 pandemic has also affected transit times as some countries have shut down for months at a time.
You can't avoid delays that are outside of your control. But by following our shipping process, you can eliminate delays from your end. We recommend making a complete list of what you need. These are our tips.
Properly Pack Your Items
First, you'll want to make sure that the contents of your shipment are properly packed.
Are you shipping something fragile? You'll want to use bubble wrap to keep it safe. If you're shipping documents, make sure there's enough room in your package. You don't want your documents to tear through the packaging. This can happen from putting them in an envelope that's too small.
If you're shipping a large box, don't allow more than two inches of space. This will keep your contents from moving around and getting damaged.
Are you shipping beauty products? Be sure to place the appropriate label on your package. "Fragile" indicates that the courier should handle the parcel with extra care.
Getting Through Chinese Customs
Second, your package needs to get through Chinese customs. There's a documentation process that you'll need to follow. You'll want to include your customs forms, including your customs invoice. Make sure that each customs form is carefully filled out.
You can insert your customs form into a window on the outside of your package. This allows customs officials or shipping couriers to view the documents and put them back. It helps ensure that none of the documents get lost.
If you need helping with your customs form, please don't hesitate to reach out to us. Our shipping services include filling out customs forms.
The Correct Shipping Address
Third, make sure you have the correct shipping address. This might seem simple, but the wrong address will get your package lost. Foreign addresses can be very different from what you're used to. So, triple check to make sure you have the correct address. You'll save money and time this way. Plus, your package will arrive much sooner!
Your Customs Value
Fourth, check your customs value. If your package exceeds a certain value, you'll need to take some extra steps. You'll need to file EEI for customs clearance, even if you're sending packages for personal use. You can hire a DHL Express representative to file for you. Contact us for more information.
Ship with DHL Express for Reliable Delivery
Our final recommendation is to ship with us through DHL Express. The cost of shipping from the USA to China can quickly add up. Through our partnership with DHL, we offer the best shipping rates you can find. And the more you ship, the more money you save.
Shipping to a foreign country is a lot of work. It takes time and concentration to make sure you get everything right. Have you shipped internationally before? If not, we would love it if you shipped your first international package with us.
Our customer service team will be glad to assist you. We have live agents who answer the phone. There's no long waiting times or pre-recorded messages to listen to. We'll help ensure that you have all the details right to prevent delays.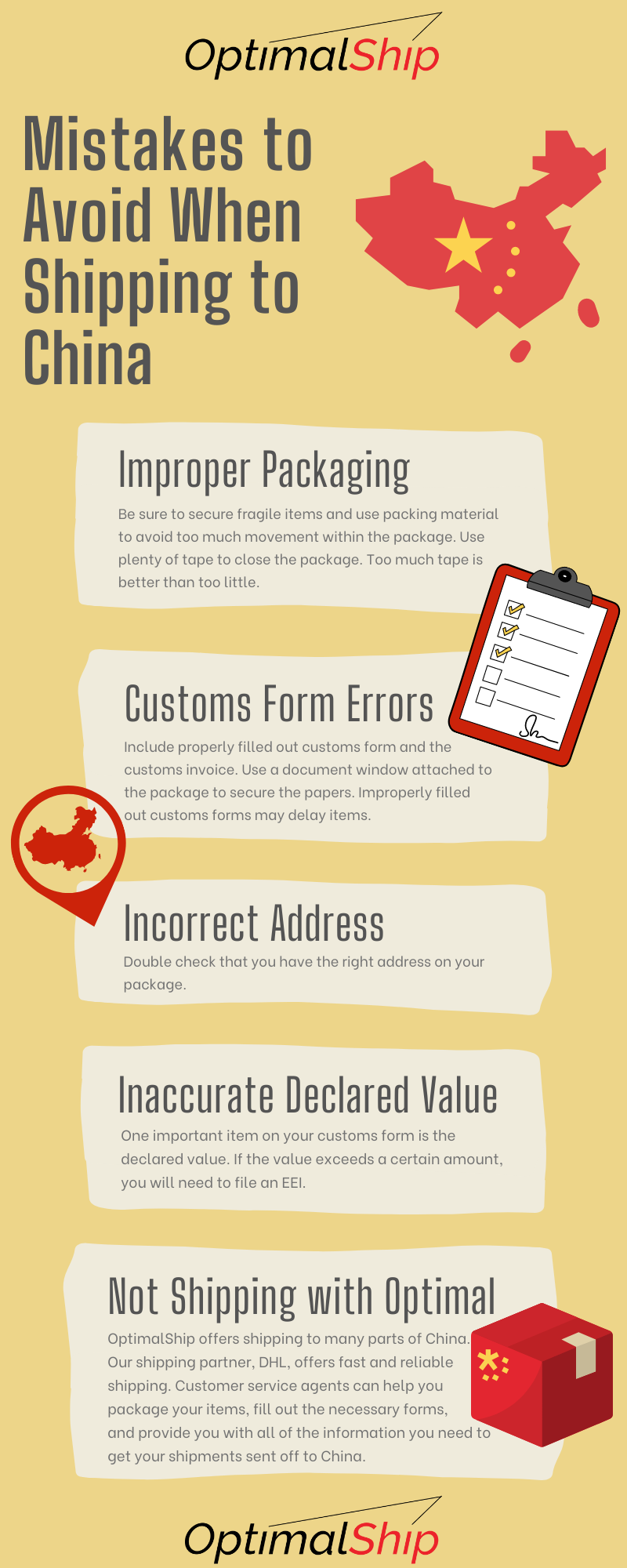 Conclusion
There's no way to guarantee that your package won't be delayed. But there are steps you can take to avoid a delay from your end. This includes properly packing your goods for shipment, filling out customs forms, determining the customs value of your shipment, and making sure you have the right address.
These simple steps help everyone involved to get your package to its destination as quickly as possible. And by shipping with OptimalShip and DHL Express, you'll get the most competitive shipping rates with the best customer service. Contact us today to get started with your international shipment.
FAQ
Why do packages take longer to get to some Chinese locations?
China is a huge country. China is also the second largest importer in the world, next to the USA. Because of this, there can be shipping delays. If you ship close to the Chinese New Year, your package could take over a month to arrive. This is because China shuts down to celebrate the Chinese New Year. Many couriers will be closed. Those closures will cause other couriers to pick up the slack. There will be delays all over the place.
Sometimes a package will arrive at a busy airport. The busier the airport, the longer it takes for your package to get sorted. Additionally, many packages also require ground transportation to arrive at their final destination. Transit times also affect when a package arrives.
What can I do to help my shipment arrive on time?
You can't avoid delays that are outside of your control. But you can avoid delays from mistakes. There are several steps you can take to ensure that there aren't delays from your end.
How should I prepare my items to be shipped?
Make sure your goods are properly packaged. Packaging that's too big or too small is problematic. Your goods could tear through the packaging or suffer damage during transit. You can purchase insurance for your package. But packing it properly is an important step.
How do I get through customs?
OptimalShip and DHL Express can help you get through customs clearance. There are specific forms you need to fill out and additional charges you must pay for international shipments. Prompt payment of these charges will help your package get through customs more quickly.
Why should I ship with OptimalShip and DHL Express?
You could choose to ship with UPS, USPS, or FedEx. But these couriers don't provide the same customer service or international rates as us. With OptimalShip and DHL Express, you're getting the fastest, cheapest rates there are. We'll keep more money in your wallet without compromising quality.