When your business is growing, the last thing you would want is to get embroiled in minute details. For entrepreneurs navigating the rough, uncertain waters of a Covid-19 ridden business world, there's more than enough to be concerned about without getting entangled in logistics, shipping, and delivery.
However, that same pandemic has also put supply lines in a state of doubt, with international shipping services and routes being hampered globally. In such times, a reliable shipping service is an invaluable asset to business.
Whether you need us to convey crucial documents, send important packages, ship products to some remote store in a small country, or send a box via express delivery, our international shipping service will act as a dependable arm for your business.
Globalize your business with international shipping
The increasingly fast-paced world has evolved businesses from being local hubs to global giants with offices worldwide. In such times, expanding your business internationally isn't just a choice - it's a necessity. For this necessity, you will need to consider international shipments.
Getting into the world of international shipping is a big step - and one you should prepare for - but contrary to popular belief, it is hardly daunting if you have the right knowledge. If you are new to OptimalShip and/or the whole international shipping scene, here is some useful information on the matter.
International shipping at competitive prices
When shipping to destinations in other countries, many different factors affect the cost. Details such as dimensions, weight, number of boxes or packages, mode of shipment, and destination will determine the final price.
OptimalShip understands the money situation of growing businesses, and offers the most cost-efficient service to fulfil your shipping needs - without compromising quality. Through our authorized wholesale partnership with DHL Express, we are able to provide the lowest rates to our customers. The DHL network is the largest and most efficient globally.
Head on over to our intuitive and accurate online quote tool to find out what your shipment might cost you. Alternatively, you can call or email us for a direct quote. Bear in mind that any duties and taxes are not included in the qoutes.
To ensure convenience for your financial record-keeping, we also offer personalized invoices where needed.
Shipping to the right destination at the right time
With access to a network covering over 220 countries, you can make deliveries to just about any location in any country on the planet - with just a small extra fee for remote locations. This gives you access to markets otherwise unattainable, and with it, larger expansion prospects.
Different regions and plans have different weight and dimension limits, and it's good practice to consult customer service before making plans.
With basic delivery plans, get your deliveries done within 1-3 business days in the United States and Canada. For international locations, delivery times may vary between 1 to 14 business days depending on the destination, the size of the shipment, and the delivery plan chosen.
This is the time it takes for an international shipment to reach the destination country or city, and the actual delivery to the address might happen a few days after that depending on a variety of factors such as customs clearance, size of the package, nature of the contents, etc. (unless it is express, in which case it will arrive at its destination as quickly as possible).
Please remember that under the circumstances, service impacts caused by the Covid-19 pandemic may slow down delivery to certain countries, depending on the country of origin and restrictions in the receiving country.
Urgent delivery? Try express international shipping
The fastest method for shipping internationally, express delivery will allow you to get your most urgent, critical mail, package, or parcel anywhere on the globe with a delivery time of either 24 hours or up to 3 business days depending on the service.
When you sign up for an express delivery, the package will be picked up from your location at the earliest possible time, put on a plane the same day, fast-tracked through customs, and taken to the address specified - with the entire process being completed in as little to 1-3 days depending on the location.
OptimalShip's rock-solid customer service backbone
Have a question or questions? Our industry-leading customer service has you covered.
We know that matters of such importance aren't always solved by automated answering machines, so our customer service is provided by highly trained query management personnel who are experts in the field of logistics.
A-Z customer care
For your convenience, we are ready to help you with every step. We can give you a quote for your shipment, and even prepare your shipping documentation - including shipping labels and customs invoices. Our knowledgeable customer service agents are ready to answer any shipping questions you may have; a live person picks up every phone call.
In the event of any issues during transit, our agents are ready to step in and help in your time of need. We are able to advocate on your behalf with the carriers and customs to help get your packages delivered. Our help is just a phone call or email away.
Shipment tracking
No matter where you ship, you can also track your shipment throughout its journey across the country or world from the comfort of your phone. Just make sure you save your shipment's tracking number, and you will never be far from your package.
Assistance for e-commerce
For e-commerce entrepreneurs, OptimalShip has a variety of integrations available. Look for available integrations if your app supports third-party software development, and if there are none, you can always call upon our developers to create such a bridge.
In short, you are guaranteed to have professional help every step of the way, and can always rest easy when availing our services.
Our international shipping partner
We are proud to say that we are an authorized DHL express service provider.
A household name in logistics, DHL sets industry benchmarks in domestic, international, and express international shipping with state-of-the-art technology, highly trained, dedicated staff, and a massive network of ocean, ground, air, and rail freight units. It should come as no surprise that DHL is widely regarded as the best shipping service out there.
DHL vs the US post office for international shipping
Many people draw comparisons between the United States Postal Service and DHL. Here are some reasons why you could consider DHL through OptimalShip over the post office's service when shipping internationally.
Higher weight limit
With a massive weight limit of up to 660 lbs to USPS' 70 (which comes down to far less for express deliveries), we give you more leeway for international deliveries.
Increased size restriction ceiling
Heavier parcels can get pretty big, and with us, you get a volume limit of 390cm compared to the USPS' 274cm.
Return and insurance policies
DHL offers shipment value protection to cover your shipment from loss or damage, for the competitive price of $1.15 for every $100 insured.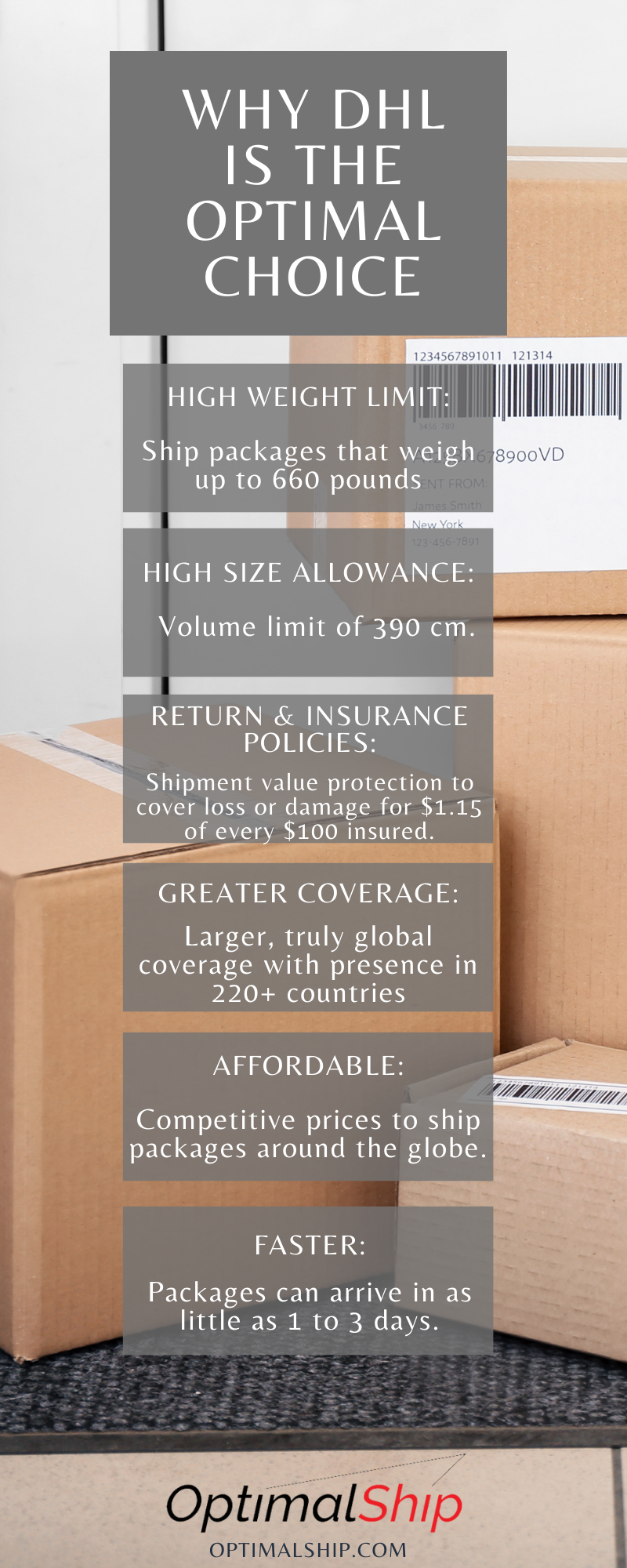 Greater coverage
DHL features larger, truly global coverage with presence in 220+ countries compared to the 180+ covered by USPS international.
Less expensive
International markets are more accessible than ever with DHL's comparatively lower rates. For example, sending a 5-pound package from New York to the United Kingdom incurs a fee of just over $68 for express international delivery via DHL. The USPS, on the other hand, charges well over $89 for much higher delivery times.
Faster
Where DHL can get your parcel to its destination within 1-3 days, it will take at least 5 business days for your USPS parcel to arrive.
Frequently asked questions
Here is a list of some of the most common questions asked by prospective shippers. If your question is not on this list, feel free to consult our customer service representatives.
Q: What can/can't I send via OptimalShip?
A full list of prohibited items can be found here.
Q: What items are considered to be dangerous goods?
Any items with substances that can be harmful to those carrying them are classified as dangerous goods. This includes anything flammable, radioactive, explosive, oxidizing, corrosive, toxic, or infectious, among others. Learn more about dangerous goods and shipping a package with a dangerous good here on our blog.
Q: How much will I have to pay in duty and tax fees?
There is no flat rate for duties and taxes, as almost all countries have different fees.
Q: Which party pays the duty and tax fees?
By default, it is the recipient who pays any duty and taxes, but there is an option for the sender to do so instead.
Q: Will it cost me to have the package delivered?
Deliveries will only cost a nominal fee if they are to a residential address abroad, with a larger fee required if said address is in a remote location.
For quick reference to a number of other questions, visit our extended FAQ section.