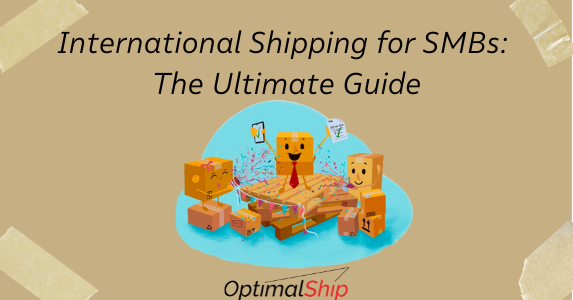 What is international shipping? It's what we do all day, every day, here at OptimalShip. International shipping occurs anytime you ship something outside your home country. It doesn't matter whether it's a document or non-document (also known as a package). If it leaves the border of one country and enters another, it's international. When a document or parcel stays within its own country, it's domestic.
Domestic packages are handled differently than international packages. International shipments must meet certain criteria to be shipped. This is because different countries have different laws. What can be shipped in one country can't always be shipped in another country.
International shipping is used for a variety of reasons. Both small businesses and medium-sized businesses often need to ship overseas. Shipping as a small business can seem overwhelming if you've never done it before. But there are easy small business shipping solutions. So, don't worry! In this article, we're going to cover everything there is to know. For whatever reason you need to ship internationally, we'll have you covered.
We'll discuss:
What are my options for cheap, international shipping?

I'm in a rush. How can I get a package overseas quickly?

What shipping companies ship internationally?

What are the most popular international shipping destinations?

How long does it take to ship internationally?
o What are my economy shipping options?
o What are my express shipping options?
The Simple Five Steps to Shipping Your First International Package

What are customs and how do you get through it?
We'll also answer some frequently asked questions.
What is a harmonized code?

Difference between Pro Forma and commercial invoice?

Why is my shipment held up in customs?

Do I need an export license? Why?

How do I find customs values?

What customs forms do I need?

How do I ship documents internationally?
Don't worry if these FAQs stress you out! They might not be all relevant to you. But it's important for us to cover them in case they are. This article is meant to be comprehensive. We want to cover everything you could need to know. International shipping for your small or medium-sized business is important.
Need to ship a document or package overseas? Look no further. Continue reading to learn all you need to know about international shipping. We'll make sure that your business needs are taken care of.
Cheap International Shipping
Being a small or medium-sized business often comes with a tight budget. You can always google how to ship cheaply overseas. But the rates you'll find on the internet aren't the cheapest. Those companies only want you to think that they're the cheapest. That's where we come in.
Optimal Ship has an established relationship with DHL. DHL is one of the world's premiere shipping couriers. You can go directly to DHL and ship through them. But we can do you one better. If you ship with DHL via Optimal Ship, you'll receive discounted rates you can't get anywhere else.
How does it work? Optimal Ship provides discounted rates based on how much you ship. The more frequently you ship, the better the rates are. Want to find out shipping rates for your business? We have great solutions for both small and medium-sized businesses.
Contact us today for more information. The great thing is, when you call Optimal Ship, you won't wait on hold. A live agent will answer the phone and provide you with all the information you need. We can help, whether you're shipping for the first time or the hundredth.
Fast International Shipping for Businesses
Do you need something shipped quickly? Perhaps you need a package or document to reach the other side of the world as quickly as possible. Tomorrow, even. OptimalShip can help. Our partnership with DHL allows us to get you lightning-fast shipping.
The safety of your package is paramount. We trust them to get your package safely where it needs to go. But we won't stop there.
OptimalShip provides the kind of customer service you need to have peace of mind. Our customer service agents can help you track your package. We can prep your documents to save you time and explain anything you have questions on. You'll also receive a tracking number, so you can check to see where your package is.
So, just how fast is fast shipping? DHL has the largest and most well connected network for shipping globally. They can get your package almost anywhere in 1-3 business days.Your document or package can get to where it needs to go quickly.
International Shipping Companies
Optimal Ship is partnered with DHL to provide outstanding international shipping services. Other international shippers include FedEx, USPS, and UPS.
About DHL
DHL is based in Germany. DHL has offices all over the world. The company is the leader in global logistics. It's an international courier. It specializes in package delivery and express mail package service. Optimal Ship works closely with DHL. We work hard to provide discounted rates. Fast, secure service is our priority for all our customers.
About FedEx
FedEx provides international shipping services. They are also involved in marketing for businesses. They have offices all over the U.S. and are headquartered in Memphis, Tennessee. They are known for being highly involved in holiday shopping.
About USPS
The United States Postal Service is part of the U.S. government. It's an independent agency within the executive branch of the government. USPS is primarily focused on domestic shipping. However, they do offer international shipping. This includes one-to-three-day shipments for documents.
About UPS
The United Parcel Service is sometimes confused with the United States Postal Service. Their abbreviations are quite similar, but they are completely different companies. The United Parcel Service is not part of the U.S. government. Instead, it's a company that focuses on shipping and receiving. UPS also works with supply chain management. UPS is based in Atlanta, GA, and offers international shipping.
These are the primary shipping companies that handle international documents and packages. If you google "international shipping company", you'll get a ton of results. But you have to be careful with this. Not every company has your best interest in mind.
Some companies are scammers. They'll take your money but never ship your packages. Others will charge you extra, unnecessary fees to make more profit. You don't need to fall for that. You can trust OptimalShip. There are no hidden charges or fees.
Most Popular International Shipping Destinations
This might be the first time you've shipped internationally. But did you know that packages are sent overseas every single day?
Here are the most popular countries where packages are shipped:
Australia

Canada

China

France

Germany

India

Japan

New Zealand

South Africa

Sweden

United Kingdom

USA
Each country has its own rules and restrictions. Customs and the associated, required documents might be different. Delays in customs are the most common form of transit delay when shipping internationally, typically due to lack of detail on customs invoicing. That's why OptimalShip is here. You don't need to do it all on your own! We can walk you through the customs process, step-by-step. We'll go into this in more detail later.
Shipping Times for International Shipping
There are two types of shipping options: economy and express. Choosing between these shipping options depends on several factors. How quickly do you need your package to arrive at its destination? Being in a rush makes a difference.
Economy shipping is for packages that don't have a destination deadline. Regular economy shipping usually takes seven to ten business days. Expedited economy shipping usually takes two to five business days. UPS and USPS are popular shipping options for these kinds of packages.
Express shipping is for when you don't have days to wait for a package to get to its destination. DHL is the most popular option for these types of packages. Most packages are delivered within 1-3 days. These rates are more expensive, which is why you should ship with Optimal Ship. You'll get DHL's service with Optimal Ship's discounted prices.
The Simple Five Steps to Shipping Your First International Package
Are you nervous about sending a package overseas? Simply follow these steps. This will ensure that your package gets where it needs to go.
Step 1: Make sure your package is properly packed.
Are you shipping a document? Be sure your envelope has enough room to comfortably carry all the documents inside. You don't want to cram an envelope to save room or money. Your envelope could burst. You'll need to pay for a new envelope and new postage if that happens Most carriers provide standard size document envelopes for you to use.
Are you shipping a package? Be sure to have two centimeters of space on all sides of the box. But don't let there be any extra room. This could cause your package to bounce around and get damaged.
Step 2: Check dangerous goods and restricted or prohibited commodities for the country to which you're shipping. Make sure you're not sending anything that's not allowed. Your package will be stopped at customs and never make it to its destination. We'll get more into that shortly.
Step 3: Fill out customs documents. We'll explain this in more detail in the next section.
Step 4: Get tracking information for your recipient. This number allows both of you to see where the package is in route.
Step 5: Provide your contact information to everyone involved. This will ensure that if something goes wrong, you'll be within reach. This will help to quickly correct anything that goes wrong.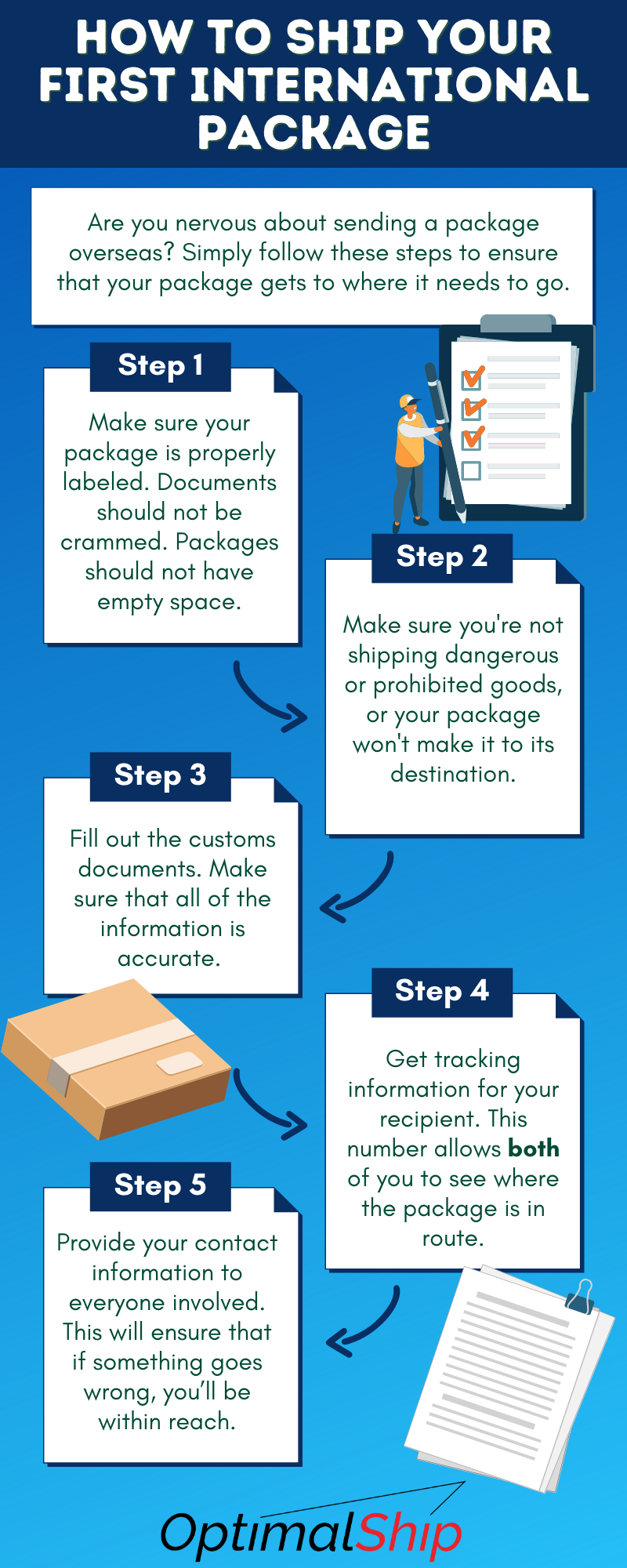 Customs - What Is It?
Customs is both essential and unavoidable when it comes to international shipping. Customs is the name for the authority that regulates what comes in and out of a country. Customs officials check for compliance against dangerous goods, or restricted commodities These officials also utilize the customs documents to determine what duties and taxes are owed, and to ensure that they are paid. It's important that those fees make it to the appropriate government entity.
For product shipments, customs documents are always required. The rules and regulations, documentation needed, and duty/tax rates can vary greatly from country to country. Need help to figure out customs? Call OptimalShip today. We'll guide you through the process specific to the country where your goods are going.
Customs clearance can take anywhere from a few hours to a few days or more. Most customs clearance delays arise when customs documents are incorrectly filled out. These are the most common things that cause customs clearance delays :
Customs Invoicing that is missing or missing information

Wrongly declared goods

Prohibited items

Outstanding customs fees

Difficulty contacting the recipient
Packages that have detailed customs invoicing, and have any additional documentation required by customs included, depending on the commodity being shipped, clear customs quickly.
Optimal Ship is here to help. We can review your customs documents. We'll help you make sure you're following all the rules.
QUICK TIPS:
Shipping internationally can be a smooth process if you follow these tips:
See how long it will take for your package to ship to its destination. Plan accordingly.

Check the restrictions for where you're shipping. Ensure that what you want to ship is legally allowed.

Find the right envelope or box to ship your package. Are you shipping documents? Choose an envelope that all your papers fit in. Are you shipping a package? Make sure there are two centimeters of space on all sides, but no more.

Carefully fill out customs documents. Be specific. Don't leave out details. This will help clear your package quickly.

Ensure that your package has enough postage to make it to its destination. Be sure to also designate the duty and tax payer, and pay accordingly. Insufficient postage or outstanding fees will prevent your package from arriving.


FAQ Section:
- What is a harmonized code?
The Harmonized System (HS) is a six-digit universal classification used in 98% of international trade and is the primary source used by Customs to classify and define goods imported and exported from a country. The HS code is used to record international trade by product and to collect duties and taxes. It can assist with faster processing of shipments thru Customs, more accurate calculation of duties and taxes, and providing alerts to any import or export restrictions.
Still confused? Go here to get your harmonized code: https://uscensus.prod.3ceonline.com/ui/
https://www.gov.uk/trade-tariff
Simply enter in all the information you have in order to receive your harmonized code.
By having the correct harmonized code, you'll ensure that the following criteria are met.
All licenses and permit requirements are met

Faster Customs Clearance

Duties and taxes will be correctly paid

Prevent your goods from being seized
As you can see, it's important to ensure that you have the correct harmonized code.
- What is the Difference between a Pro Forma and a Commercial Invoice?
There's an important difference between a Pro Forma versus a commercial invoice. Understanding the difference is vital.
A commercial invoice is the most common type of customs invoicing. Commercial invoice is used whenever a product carries a commercial value. In simple terms, the products are being bought, sold, or resold.
A Pro-Forma invoice is used when the items being shipped are a gift, a sample or a return/repair. Shipping using a pro-forma invoice does not mean that the shipment isn't dutiable, and duty/tax may still be owed depending on the destination country's customs policies.
Both a commercial invoice and pro-forma invoice require the following:
Name, address and phone number of the sender and receiver
Associated airway bill or tracking number
Date of Shipment
Detailed descriptions of each commodity in the shipment, in line item form
Quantity and declared value per unit of each commodity in the shipment (subtotals and totals)
Harmonized code for each commodity
Country of manufacture for each commodity
Terms of Sale (Incoterms)
- Why is my shipment experiencing a customs clearance delay?
The reason why your package is being held determines how long it will be held for.
Most clearance delays are logistial in nature, and don't last more than a few hours or a day. Sometimes it just takes the people working in customs a little longer than usual to work through the backlogs of packages. This happens most usually in peak volume seasons.
Other delays are due to duty/tax payments needing to be received. Once payment has been processed, the shipment will be released from customs and typically begin to move to its final destination in 24 hours.
Incomplete or missing paperwork delays may take longer. The carrier should reach out to the receiver and request any additional paperwork or information needed to clear the shipment. These delays can take longer to resolve. Monitoring, tracking and reaching out to the carrier when a delay is seen can expedite this request for paperwork or information.
So, if your package is held up, find out what's holding it up. Resolve the problem as quickly as possible. Then wait for customs to release it. It's that simple, although it does take time. That's why it's so important to take care of things in advance. Follow the five simple steps we outlined above. This will help keep your package from getting stuck in customs.
- Do I need an export license? Why?
Not everyone needs an export license. In fact, most people don't. Did you know that 95% of packages shipped internationally don't require one? So, when do you need one?
You need an export license if you're going through one of the following agencies:
Department of Commerce, Bureau of Industry and Security (BIS).

Department of Treasury, Office of Foreign Assets Control (OFAC).

Department of State (State Department).
First, find out which agency has jurisdiction over what you're shipping. BIS, OFAC, and the State Department will all have different regulations to follow. The following items are usually subject to an export license:
Missile technology

Chemical and biological weapons

Weapons or ammunitions
So, are you shipping something that could affect national security or foreign policy? You'll likely need that export license. The Export Administration Regulations (EAR) works under the direction of BIS. EAR ensures that national security is not compromised. Visit this page for more information: https://www.trade.gov/us-export-licenses-navigating-issues-and-resources
Have questions? Optimal Ship is here to help. We understand how overwhelming international shipments can be. The more complicated it seems, the more stressed out you get. We're here to take that stress away if we can. Call us, and we'll walk you through the process.
- What is the declared value of my shipment?
It's not super hard to determine the value of customs. The total declared value of the shipment is the total of all the declared values of each item/commodity you are shipping. The declared values are what customs will determine duty/tax rates on each item you are shipping. This declared value is the price the shipper is stating the items are worth. Customs may occasionally request documentation supporting the declared value if they feel it has been under-declared.
For example: you are shipping 2 shirts declared at $10.00 each, and 2 hats declared at $5.00 each, the total declared value for the shipment is $30.00.
Are you shipping a document that doesn't have commercial value? You won't need to worry about customs values. If you're unsure of how your package is classified, contact Optimal Ship. We'll help you figure it out.
- How do I ship documents internationally?
So now you know all about international shipping and customs documentation. But how exactly do you ship documents internationally? Again, Optimal Ship can help you with that. We know the process like the back of our hand.
Each country has different rules that determine what they consider a document shipment. Typically document shipments are shipments that contain ONLY paper documents, such as business contracts, legal documents, reports, etc.
Once you have determined if your shipment is classified as documents, all you will need is a shipping label, and you are ready to go! Document shipments, unlike product shipments, do not require a customs invoice.
OptimalShip customer service can help you determine if your shipment is classified as a document shipment in the destination country.
Conclusion
It might seem like a lot to take in. But shipping internationally is not as hard as it might seem. Us humans just tend to get nervous when we're doing something new for the first time. That's why OptimalShip is here. When you do something all day, every day, it just clicks. International shipping clicks for us.
If you need any help at all, reach out to us. OptimalShip is unique. We have multiple live agents who are there to answer the phone. That means you'll never wait on hold. There's no listening to automated messages. Instead, you'll be immediately connected to a live agent who can help you. We can answer any and all questions you might have about shipping.
Are you shipping for the first time? OptimalShip is happy to help however we can. We generate shipping labels and customs documents for our customers. We'll help you schedule a time for a DHL courier to pick up your package. Or, if it's easier, we'll help you find the nearest DHL location to drop off your package.
Whatever you need, OptimalShip is here to help. Reach out to us today to get started with your international shipment.