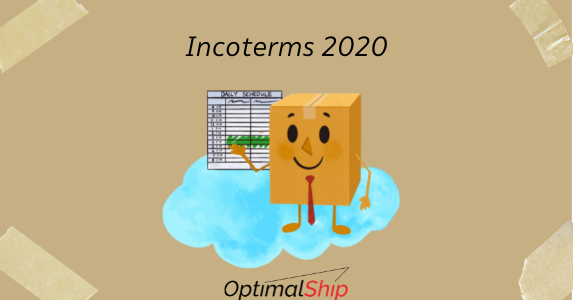 Incoterms 2020 is an abbreviation for international commercial terms. Incoterms are part of international trade. Incoterms rules define the "basic roles and responsibilities of seller and buyer" when handling manufactured goods.
This includes the delivery, risk factors, and the sales contracts between the buyer and seller. Incoterms almost always apply to exports and imports, but they sometimes also apply to domestic sales. Incoterms rules are meant to help both the shipper and receiver avoid potentially costly mistakes.
In today's article, we are discussing the three most common terms that are associated with Incoterms rules. They are most commonly known by their abbreviations. This can be confusing if you're unfamiliar with them, but you can just learn about the ones that are related to your business.
Keep in mind that, while these three Incoterm rules are the most common ones, they are not the only ones. Nor do they apply to every shipment. In fact, many of these terms have completely opposite meanings from each other.
The Three Most Common Incoterms
The three most common terms of trade/Incoterms are DAP, DDP, and EXW.
DAP - Delivered At Place
DAP is the number one most popular Incoterms rule. After the sales contract has been made, it's time to send the goods. Of course, the first stage of shipping is correctly packaging your product.
Once it is packaged, it's the shipper's responsibility to ensure that the package will reach the receiver's country and its final destination. This includes:
correctly addressing the package
ensuring it has enough postage
any applicable documentation (like customs forms) are included
The responsibility transfers from the shipper to the receiver once it has been imported. The sender was responsible for including proper customs documentation, but the receiver is responsible to complete the customs process once it's arrived in their country. This includes the import permit, required customs documents, and paying for duties and taxes.
DAP essentially covers who is responsible for the product/goods from the time of purchase to the time it's in the receiver's hands.
DDP - Delivered Duty Paid
Delivered Duty Paid refers to the shipper's responsibility for costs. The shipper bears responsibility for all the costs and fees related to exporting and importing the goods. This includes all duties and taxes. The receiver bears the responsibility of any fees or taxes that must be paid for customs clearance.
EXW - Ex Works
Ex Works refers to scenarios where the receiver carries the responsibility instead of the shipper. DDP places responsibility on the seller to pay those taxes and fees. But EXW places it on the buyer.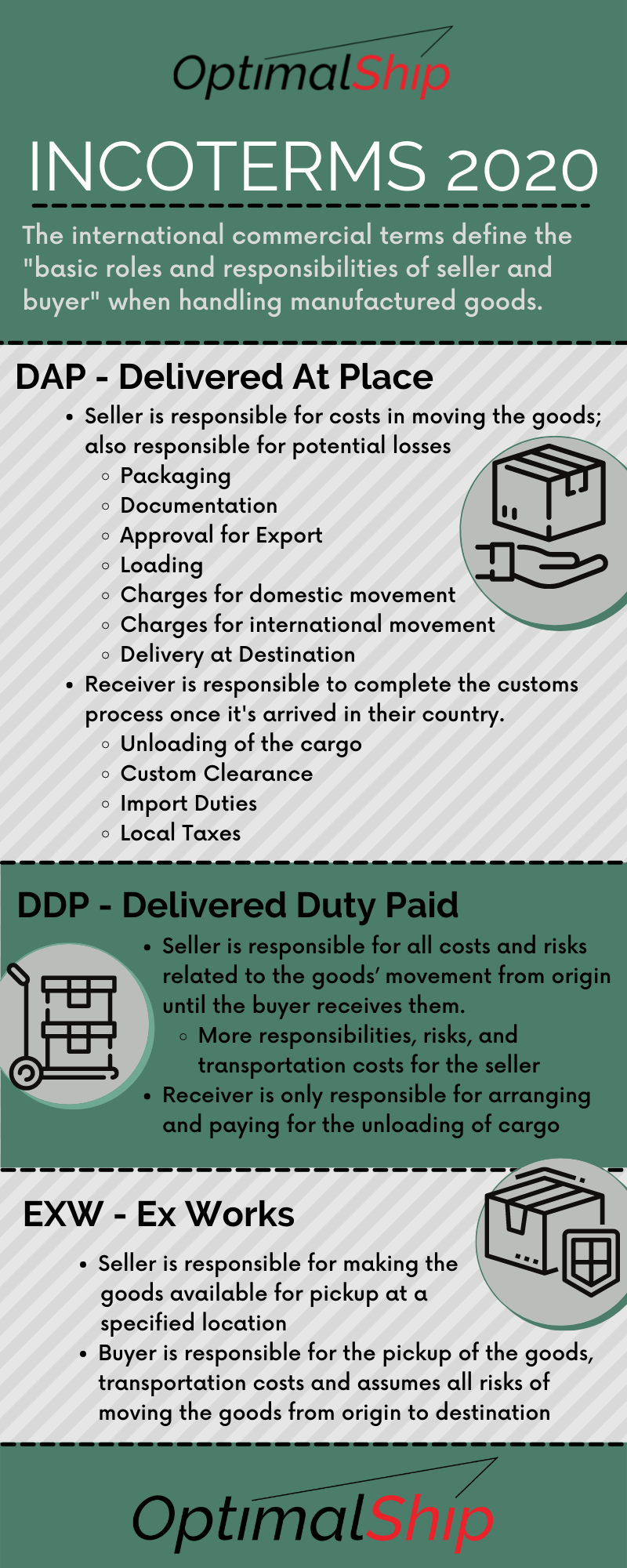 Conclusion
The Incoterms 2020 rules dictate where responsibilities lie for different aspects of the shipping process for manufactured goods. Not every Incoterms rule is the same, nor do they all apply to the same shipments. In fact, some Incoterms rules are opposite, like DDP or EXW.
If you have any questions regarding which Incoterms rules apply to you, please reach out to us. OptimalShip can help you determine which Incoterms rules apply to your shipment. We can also help you understand which responsibilities you have.
If you live in the Allen area, feel free to stop by our office. Otherwise, you can call us at 972.383.9901 to speak with a live agent. When you call OptimalShip, you will be helped in a timely manner. And if there's any wait time at all, you won't listen to a repetitive auto-recorded message. We'll help you and get you on your way.
OptimalShip is here to help you understand Incoterms rules, but we also help with every stage of the shipping process for international deliveries via DHL Express. We work with DHL Express to provide highly discounted rates for express international shipping. If you regularly ship for your business, reach out to us to see how much we can help you save.
Frequently Asked Questions
What is an Incoterms rule?
Incoterms rules are international commercial terms that govern the export and import of manufactured goods. They are rules that dictate who is responsible for what. Sometimes the shipper is responsible for everything, and vice versa. Sometimes the responsibility is split equally between the receiver and the shipper.
How many Incoterms rules are there?
There are 11 Incoterms rules. We only covered DAP, DDP, and EXW in this article. Those are the most frequent Incoterms rules that our customers must follow.
What are the other Incoterms rules?
Other rules include:
FAA - Free Carrier
CPT - Carriage Paid To
CIP - Carriage and Insurance Paid To
DPU - Delivered at Place Unloaded
FAS - Free Alongside Ship
FOB - Free On Board
CFR - Cost and Freight
CIF - Cost Insurance and Freight
Do Incoterms rules apply to every international shipment?
Incoterms rules apply to just about every international shipment. Incoterms 2020 are meant to protect the buyer and seller from the risks involved with exporting and importing.
How do I know what my responsibility is?
Your responsibilities will be laid out for you in the Incoterms rules that apply to you.