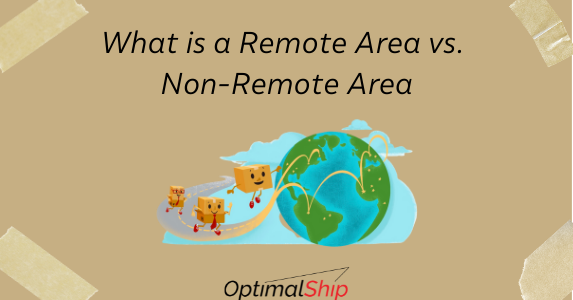 Millions of packages are shipped out every day to a wide range of locations. Some are shipped to heavily populated areas, while some are sent to remote areas. So, what is a remote area? What is a non-remote area? We'll answer these questions and provide shipping solutions for remote areas in this post.
Remote vs. Non-Remote Areas
Are you shipping to a major city? If so, your package is most likely not going to a remote area. But if you are shipping to a small town that's hours away from the nearest service center, then you may be shipping to a remote location. Remote areas are harder to ship to for multiple reasons. Don't worry; OptimalShip is here to cover all your shipping needs.
Examples of a Remote Area
A remote area could be an island, a suburb, a ski resort, the countryside, or a small town. What determines a remote area is how close it is to the nearest service center.
Unsure of whether you live in a remote area? You can contact OptimalShip's customer service and we can look up the location for you. Be mindful of the surcharge prices that a remote location might require. However, OptimalShip can always save you money!
Levels of Remote Areas
Effective Jan. 17, 2022, FedEx's 2022 remote area applicable surcharges by tier:

Tier A: $3.55 per shipment

Tier B: Greater of $45 per shipment or $0.45 per lb.

Tier C: Greater of $59 per lb.
Shipments are categorized depending on how far away the remote area is from a service station. To give you an idea of how it works, take a look at DHL's service areas:
Level 1: Not a remote area. Regular DHL services are available.
Level 2: This level is considered remote, but DHL trucks and couriers still go to this location. Trucks typically visit these areas on certain scheduled days.
Level 3: This level is more remote and DHL service trucks don't reach these locations directly. For services in these areas, DHL partners with other 3rd party carriers to collect and send packages.
Level 4: This level is so remote that the area is not serviced by DHL. However, there are very few areas in this level.
Each carrier manages remote areas in different ways. For best results, request a quote from whichever carrier you ship with and ask them to specifically check your destination zip code. They can tell you if your destination is remote and what the surcharge will be.
DHL: Surcharges for a Remote Area
Your shipment will cost more because it takes more fuel and time to deliver your package. With DHL, your surcharge is 45 cents per pound with a minimum of $45. If you ship with DHL Express through OptimalShip, you will get wholesale rates and you'll pay less overall despite that surcharge than if you shipped directly with DHL Express. On top of those cost savings, you will have access to our excellent customer service team and you won't have to sign a contract.
Other Carriers: Surcharges for a Remote Area
Carriers other than OptimalShip and DHL manage their remote area fees in different ways. For example, Fedex charges a fixed fee per package depending on the weight and shipping zone. International remote area surcharges can run between $5 and $35 per package on top of standard shipping costs. UPS has a remote area surcharge that is 45 cents per pound with a minimum of $45. From what I can see with the UPS website, there are 54,694 locations that require either an international remote area fee or their domestic Delivery Area Surcharge. These surcharges depend on the location and shipment type.
Shipping Delays for a Remote Area
Shipping couriers usually have designated days for delivering shipments to remote areas. Your shipment will likely go on a truck with multiple other packages going to that same remote area. This saves both you and the courier money by strategically scheduling deliveries. This may be a more affordable option rather than having a package sent directly to the recipient, but it can also cause some delays. For example, let's say your shipment arrives at the courier's facility on a Tuesday, and your business partner lives an hour and a half away from there. This courier only delivers to that location on Friday's, so now that package will sit at the courier's facility until the scheduled delivery time. It could have arrived on Tuesday if the area had not been remote; but since it is, the shipment is delayed 3 days.
Most people living in remote areas are used to shipping delays. If a package is important, it should be sent earlier to still arrive on time.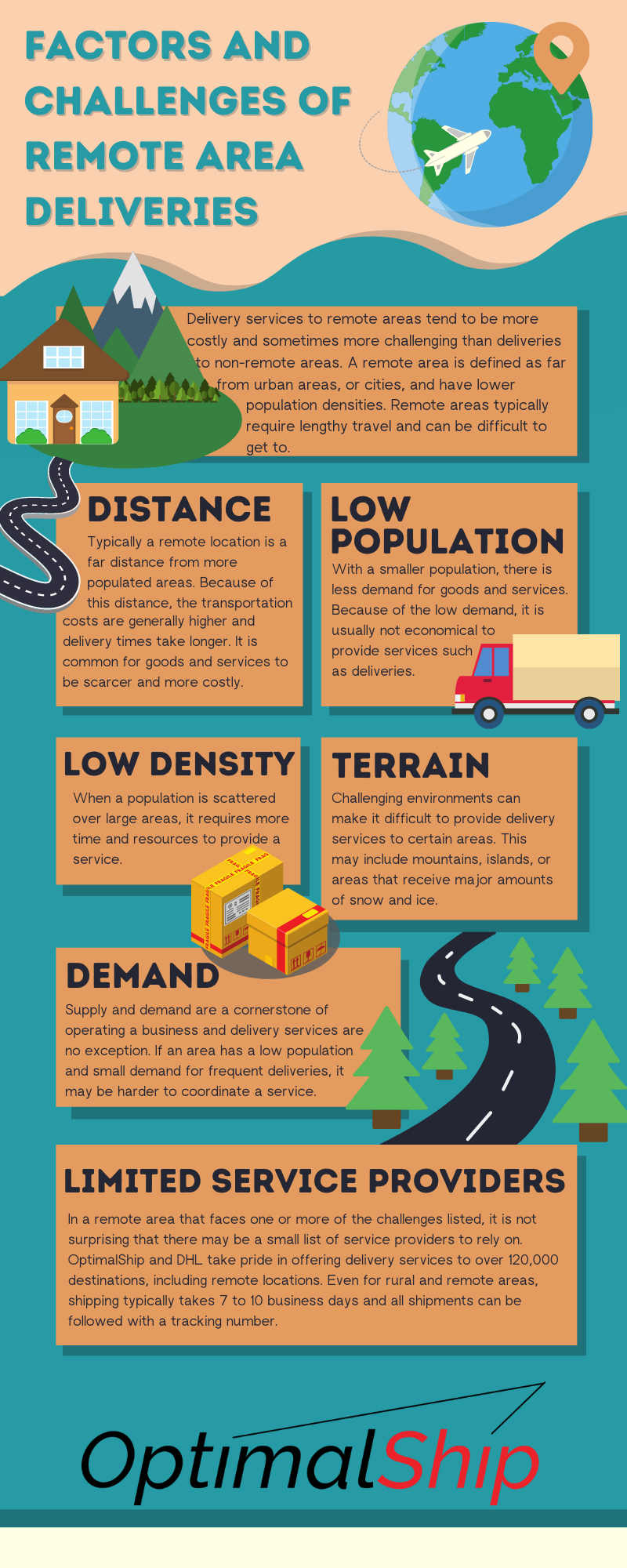 Ways to Bypass a Remote Area
Sometimes you don't have a lot of notice for shipping to a remote location. Here are some tricks to bypassing a remote location and getting your package delivered sooner.
Perhaps your business partner has a friend who lives in a non-remote area. You could ship your package to his house. Once it arrives, the intended receiver can drive to his house and get it. The only "surcharge" paid is the fuel cost for the commute to your friend's house.
A courier depot is a location where your package is dropped off with multiple other packages. The package recipient will have a key or code to gain access and pick their package up themselves. You may be familiar with Amazon's version, Amazon lockers.
Other options include shipping your package to your office if it's located in a city. Or try to find a nearby parcel locker in a non-remote location.
Ship with DHL Express
Here at OptimalShip, we work with DHL Express to provide fast shipping options. Even for remote areas, most shipments are out for delivery within seven to 10 days of the ship date. This is taking into account delays due to current issues, such as Covid-19 related lockdowns or slower than usual transit times.
Track Your Package
We highly recommend tracking your package, which you can easily do on your computer. If you are diligent in tracking you can catch any issues with remote areas before the delay gets too long.
With DHL Express-OptimalShip, log on to the DHL Express website and enter your tracking number. You can see where your shipment is currently located. You'll also see an estimated time frame for when your package will arrive. We are happy to be partnered with a carrier that does real time tracking and typically gives you 18+ updates per shipment.
With FedEx, UPS, or USPS you can also track your package. Just hop on their website and enter in the tracking number you were given.
There is a small chance that something will go wrong when shipping to a remote area. If a problem comes up, contact the courier. Perhaps your package wasn't included in the most recent delivery. Most couriers will be happy to help you.
Ship with OptimalShip
Here at OptimalShip, we deal with remote deliveries every day! From big cities to remote islands, we've got your back. You can contact us at 972.383.9901 from 7 A.M. to 7 P.M. CST Monday through Friday.
When you call us, you won't listen to a pre-recorded message. You won't wait on hold for what feels like forever. Instead, a live agent will quickly take your call. We're here to help you with every aspect of the shipping process. Contact us today to get started.