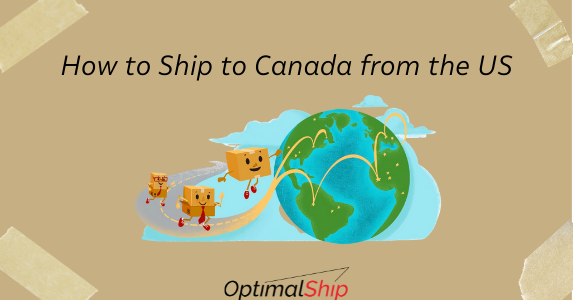 Shipping packages to Canada from the United States is simple and straightforward. OptimalShip provides all of the tools and assistance you need to ship your parcels. Our customer service team will help you choose the best shipment options for your needs.
OptimalShip services over 120,000 destinations worldwide, including several locations in Canada. Our shipping experts manage all of your logistics and transportation needs. This includes preparing shipping labels, scheduling pickups, and monitoring your shipment.
For pricing, our online quote tool is fast and easy to use. Alternatively, you can email or call our customer service team for a quote. Our live agents are available to help you with all of your questions between 7AM and 7PM CST, Monday through Friday.
Shipping from US to Canada
Canada and the US share the longest international border in the world and have an extensive trading relationship. In 2019, over $700 billion in goods and services was traded between the two countries. Canada offers the largest export market for goods in the world and is the second largest trading partner for the US.
With so many shipments crossing the border daily, shipping to Canada from the US is relatively simple and quick. OptimalShip's customer service team will answer all of your questions and assist with arranging your shipment to Canada.
When shipping to Canada, the final destination of your package may impact shipping fees and times. Most of Canada's major centers are close to the US border which will allow for fast and cheaper shipping. However, there are many remote and Northern locations within Canada. Shipping to these areas will typically result in higher fees and longer shipping times.
How Do I Ship a Package from the US to Canada?
OptimalShip will help with all of the logistics when it comes to shipping your package to Canada. If you have questions about what can be shipped or how to ship your items, our customer service team is ready to assist you.
Similar to other countries, Canada has rules in place that restrict what can be shipped across their border. These limits are put in place to protect the security and economy of the country. Restrictions also help to maintain the health of both residents and the natural world. Limiting plants and animals that may be invasive or carry disease is all part of protecting the environment.
All shipments to Canada must be properly packaged and labeled. If your packages are wet, leaking, or emitting an odor, they may not be accepted by customs. Follow the guidelines for shipping to ensure that your packages arrive at their destination without any delays.
What is the Cheapest Way to Ship to Canada from the US?
You have many options when you're shipping from the US to Canada. Sometimes you may want your shipment there as fast as possible, while other times you just want the least expensive option.
The cheapest way to ship something to Canada from the US is to use regular ground shipping. With this option, your shipment should arrive in 3-8 business days, depending on the specific location. Shipping to major cities in Canada is faster than shipping to remote or rural locations.
How Much Does it Cost to Ship to Canada from the US?
There are several variables to consider when it comes to the cost of shipping something to Canada from the US. The type of item you are shipping, the value of the shipment, and the destination can all impact the price. The cost will also depend on the size and weight of your shipment as well as how quickly you want it to arrive.
An additional fee is charged for shipments that include any overweight or oversize packages. Your item is considered overweight if it is more than 150 pounds. Any packages longer than 48 inches are oversize. Regardless of the number of overweight or oversize packages, you will only pay one fee per shipment.
If you are shipping to a remote location, this will incur an extra charge. Our customer service team can let you know if your destination is considered a remote area. These locations generally have a longer shipping time as well.
When it comes to duties and taxes, the Canada customs department determines what fees are payable. The value and type of items in the shipment will impact the amount of tax fees and duty charges. Typically, these fees are paid by the person receiving the shipment in Canada, however the sender can choose to pay them for an additional cost.
How Long Does it Take to Ship from the US to Canada?
Since Canada and the US share a border, shipments are usually delivered fairly quickly. Regular shipping takes 3-8 business days, though this depends on the final destination in Canada. If you require faster shipping speed, you can choose express shipping. This option will get your packages there quicker, sometimes as soon as the next day.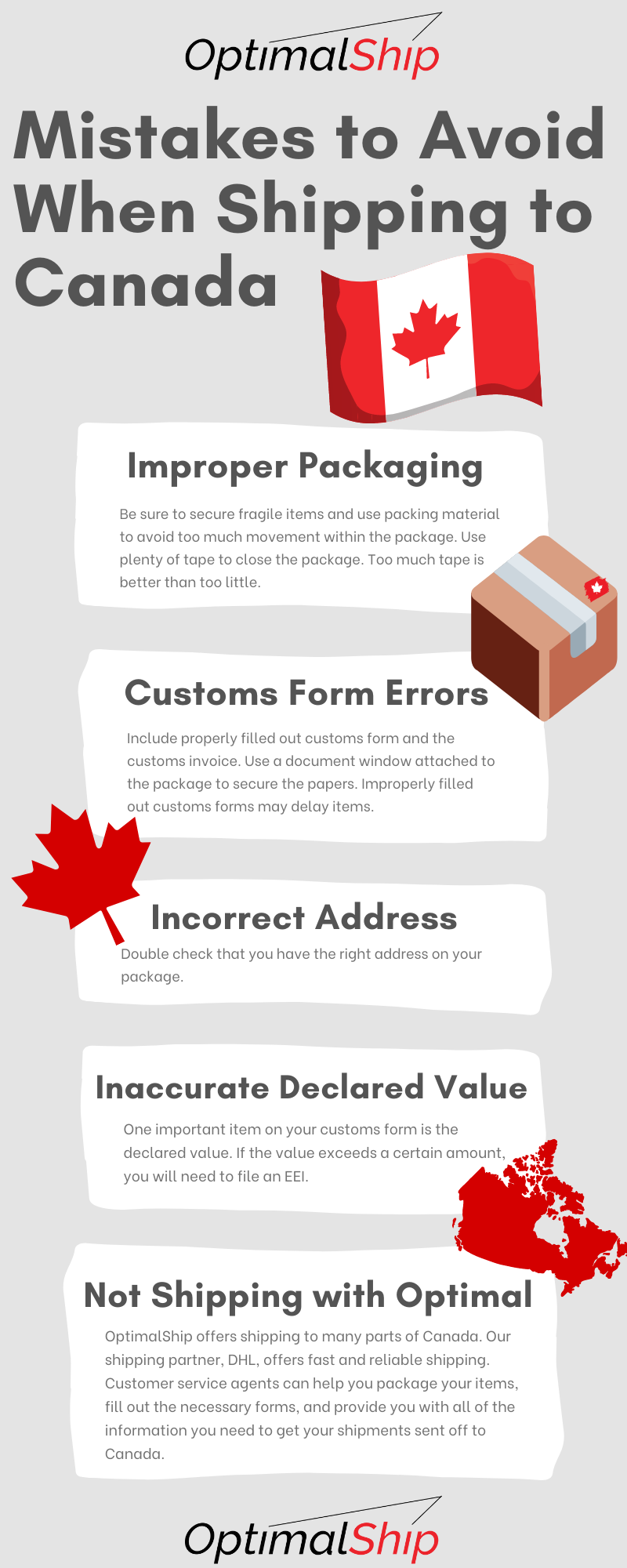 What Cannot Be Mailed to Canada?
Like all countries, Canada has limits and restrictions on what can be shipped there from the US. The following items may not be shipped to Canada.
Firearms, weapons, or ammunition
Plants, seeds, or flowers
Alcohol and tobacco
Collectible stamps and coins
Any items produced using prison labor
Perishable foods
Products containing tetrahydrocannabinols (THC)
Hazardous materials
Used motor vehicles
Pornographic material
Live or dead animals
Explosives or fireworks
Used mattresses
Currency
Animal furs
Prior to arranging shipping, ensure that you are not including anything on this complete list of prohibited items.
FAQs
What are the Rules for Shipping to Canada?
All shipments to Canada must follow guidelines and not include any prohibited items. Shipments must be properly packaged and not leaking, wet, or emitting odors. If you have any questions about shipping requirements, contact us and our live agents will be happy to assist you.
How Fast Can I Ship from the US to Canada?
Depending on the size of your shipment, you may be able to ship your package and have it arrive in Canada the next day. This express shipping is more expensive than regular shipping and can be limited to major centers.
Where Can I Find a US to Canada Shipping Cost Calculator?
OptimalShip's online quote tool can assist you with obtaining an estimate for your shipment. You can also call or email our customer service team to get help with pricing.
Can I Ship Dangerous Goods to Canada?
There are strict rules around the shipment of dangerous goods. If you are unsure if your shipment contains items that may be in this category, please call the Dangerous Goods Hotline at 866-817-3794. Any dangerous goods shipments must follow the International Air Transport Association (IATA) regulations. An additional fee is charged for shipping these items.