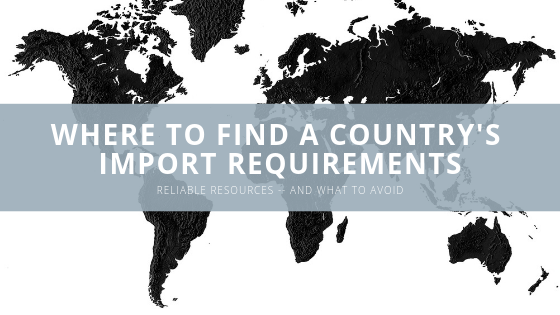 It's important to understand each country's import requirements. These requirements vary from country to country, and sometimes understanding and even knowing where to find these requirements can cause frustration and confusion among even experienced shippers. Additionally, the import requirements change over time, and sometimes as often as yearly. Let us help you understand how to find the most updated version of these import requirements to help make your shipping experience a little easier and cheaper.
There are several solid resources at your disposal to help you find the most updated import requirements. However, not every resource you find is going to be dependable, so those are also mentioned here so you can steer clear.
Professional, Dependable Resources
Here are four of the best resources to get you started.
Export.gov
Export.gov is a great resource that helps you find people who will point you in the right direction to find a countries import requirements. If you are new to international business, it will prove helpful with the beginnings of your international relations, and your company's sales strategy.
State Export Trade Office
You may also ask the state export trade office. Most states have a trade office that may be able to provide the information you need. If you need to find where the nearest trade office to you may be, export.gov keeps an up-to-date registry of trade offices, located here.
Your Shipping Company
Your shipping company may have resources of their own which they are willing to share with their customers. DHL, UPS, and FedEx are all major shipping companies who will have information regarding a countries import requirements. Most major companies will offer a brokerage service for a fee, and DHL offers its brokerage service to everyone for free. A brokerage firm, or simply brokerage, is a financial institution that facilitates the buying and selling of financial securities between a buyer and a seller. A broker from one of these firms is often required to safely and legally import and export goods from most countries.
Your Customer
Your customer may be a great resource as well. If you are doing business internationally the person you are shipping to will be able to help. Most of the time, they are used to importing many different products and certainly desire that their shipments reach their correct destination in a reliable, quick manner. Just be careful that you trust the customer to be up-to-date on their resources, and you may want to ask them about what references they are using to be sure that they are the most up-to-date version.
Unreliable or Outdated Information to Avoid
If you search a country's shipping requirements on Google, you may find that the information is outdated and/or inaccurate. For this reason, we advise you to be sure you only use credible sources and check the publication date on any material you find. When searching on the internet, we recommend that you use trusted logistics and shipping companies to find your desired information.
You do not need to memorize import requirements, although after importing over and over again from a country, you will probably get the process down quickly. Just be sure that you are up-to-date on when import requirements change. Our Customer Service Department is always up-to-date on changing import requirements, so they are always available to help you or your customers. You may reach us at 972-383-9901.
Wanted to get started learning more about international shipping? We've designed a handy little guide for you to download.