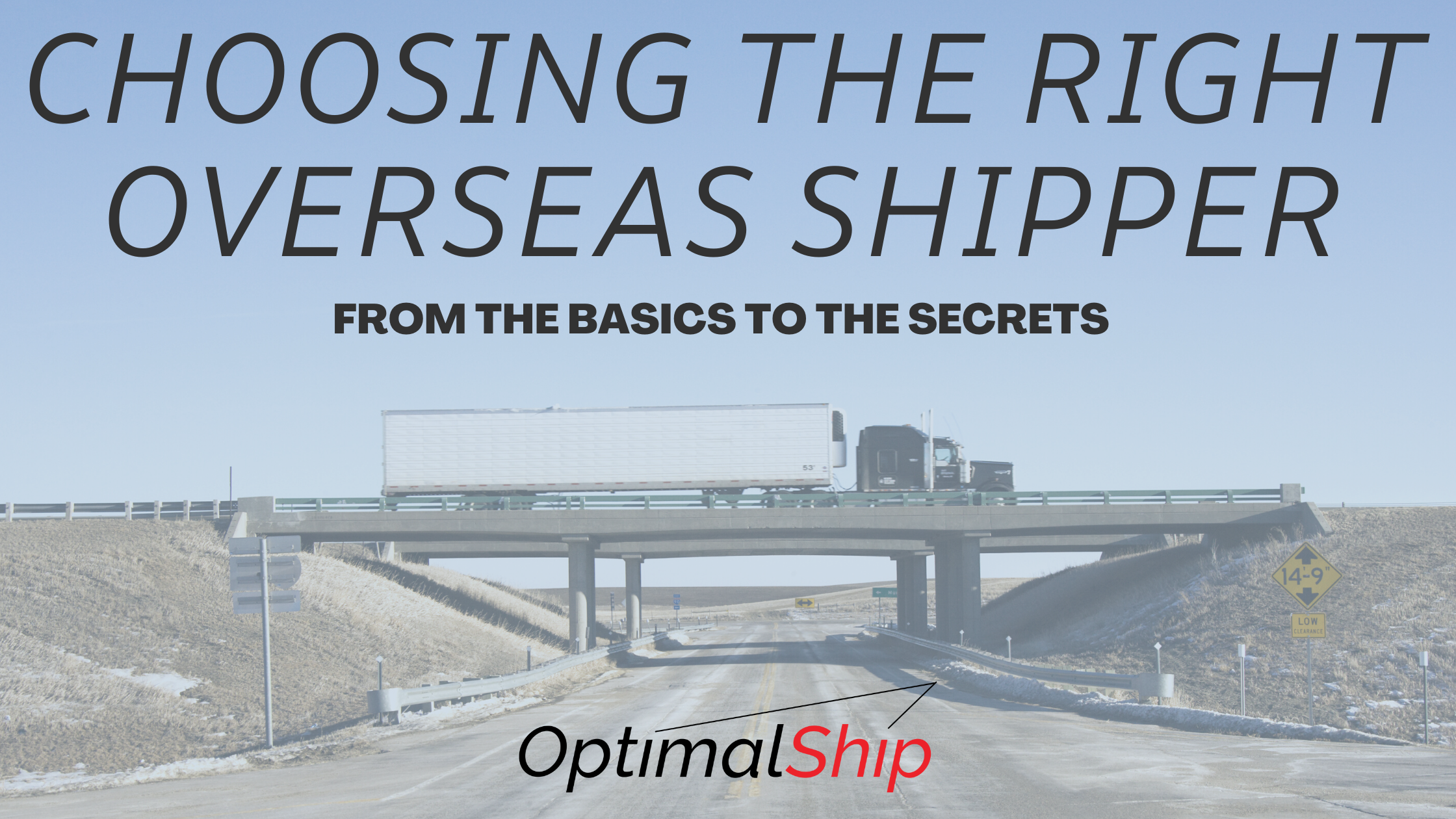 If you're looking for the best international shipping companies, there are a few things that you should keep in mind before making a decision.
For starters, you'll need to find out which international shipping services offer the best shipping rates for your destination country. You'll also want to try and find an international shipping company that offers global coverage so that if there's an issue with your shipment, they can help you get it back on track. And finally, be sure to look for a shipping company that has a great reputation and is known for being reliable.
Choosing an international shipping company is an important decision and it involves a lot of details! Below, we've outlined some of the crucial information you'll need to consider when choosing a worldwide delivery service. From the documents you'll need to the various shipping options available, read on to learn all about international shipping services.
What Are International Shipping Services?
Overseas shipping companies usually refer to those that focus on overseas freight services. The main benefit of these companies is that they are able to provide a one-stop shop for all your international shipments.
Common types of freight transport that international shipping companies offer include:
Less than Truckload Freight (LTL)
This service refers to moving an amount of goods that doesn't fill an entire shipping container or truckload. You can purchase a certain amount of space within a shipping container, such as a half a container or similar. Other companies measure LTL by pallet.
Full Truckload Freight (FTL)
If you have a large amount to ship, you might consider using an entire shipping container or containers. There are various sizes of shipping containers available. Standard sizes are the 20 foot and the 40 foot container.
Ocean Freight
Ocean freight is one of the most common ways to ship internationally. Although it's not the fastest option, ocean freight is often the cheapest world shipment option for large amounts of goods.
Air Freight
Air freight is transported via airplanes. It is the fastest option for shipping international goods, but it is not always the cheapest. For smaller amounts of shipping, air freight can be a great choice.
Parcel Delivery
For shipments smaller than 150 pounds, parcel delivery is the best choice.
Some companies offer all of these options, while others specialize. For example, companies like FedEx, UPS, and DHL are known for offering parcel and freight shipping services. Parcel services focus on international delivery for smaller packages.
Other shipping services specialize in freight shipping, which typically move much larger amounts of goods. Freight shipping is ideal for moving furniture, commercial goods, mineral fuel, cars, electronics, and more.
Do you have an idea of what sort of shipping style you require? You'll need to choose a shipping company that offers the overseas shipping services you require.
International Shipping Rates
Shipping rates can vary greatly depending on the amount you need to ship and how far it needs to go. Shipments to some countries are more costly than others due to the logistics involved.
In addition to basic shipping costs, you may also be required to pay customs duties, logistics from the port to the final destination, insurance for high-value goods, and more. Some companies work with 3rd-party delivery operators to take your cargo to its final destination, which can increase the cost. Make sure you consider all of the services you will require when calculating your costs.
How to Get a Freight Quote
One great way to test out international shipping rates is to use online calculators. Many shipping companies provide calculators on their websites, which give you an approximate cost for your shipping needs. To use these tools, you'll need the weight of your package and the country you're sending it to.
Keep in mind that these calculators only provide an approximate cost. To obtain the final cost, you'll need to contact the company directly.
Other companies provide free personalized quotes to interested parties. In this case, you'll need to request a quote for your package via e-mail or a chat box.
We'd be happy to provide you a quote for your international shipping needs! Just let us know.
International Shipping Times
How long will it take your shipment to arrive? Worldwide shipping times can vary widely depending on many different factors. Here are some of the main factors that can influence shipping times:
Where in the World Is Your Shipment Going?
As a general rule, the closer the destination to you, the faster your shipment will travel. Similarly, the farther away the destination, the longer it will take.
Some global destinations are also better connected than others. For example, Europe and North America are fairly well connected and have many logistics options. However, some areas of Asia, Africa, and Latin America may take longer to reach.
Rural areas also take longer to access. So, if your shipment will need to be transported to a final destination away from a big city, your delivery will take longer to ship.
Full Container or Partial Container?
A full container usually moves more quickly than a partial container. This is because more coordination is required to fill partial containers.
A container that will be shared by several shippers may sit for a few days as various people or businesses bring in their cargo to fill up the container. In addition, the cargo will need to be unloaded and sorted after shipping.
Full containers, on the other hand, can move out faster because they require less handling.
Will it Travel by Ocean or Air?
An air shipment is much faster than overseas shipment via the ocean. For example, a package can travel from the UK to the U.S.A. in a week or less by air. However, shipping via the ocean on the same route can take anywhere from 17 to 50 days.


What are the Best International Shipping Companies?
There are many companies that provide international shipping services, including us here at OptimalShip. In order to find the best company for your needs, you'll have to compare the various options available to you. Some considerations include:
Insurance Policies
Especially when shipping valuable goods, it's wise to ensure the shipping company you choose offers quality insurance. From theft to damage in transit, many things can go wrong during overseas delivery services.
Safety Records
The company you choose should have an excellent safety records and policies to support safety during transport.
Shipping Licenses
Depending on where you're shipping to and the value of your goods, you may require licenses. Ensure that your shipper can help you with this step. For example, the United States uses the Automated Commercial Environment (ACE) to report imports and exports.
Tracking Options
Tracking your cargo is an essential service that will allow you to check the progress of your shipments. Without this option, you won't know where in the world your international shipping cargo is at any given time.
Tracking options can also be important for coordinating pick-up on the receiving end. If you plan to have your purchaser or another logistics company pick up your cargo at the port or warehouse, tracking is essential.
Feedback and Reviews
As with any purchase, checking feedback and reviews of the international shipping companies you're interested in using can help you make an informed decision. Choose an international shipping company with solid reviews and plenty of experience.
Big names in international shipping include FedEx, UPS, DHL, UShip, and more. However, there are many companies around the world that specialize in different regions. Be sure to consider the options relevant to your area.
How to Choose an International Shipping Company
Choosing an international shipping company is a big decision. The company will care for your international shipments and make sure it arrives safely to its destination. Choosing the wrong company can mean you'll pay too much or end up with unreliable services that take longer than expected. Here are three steps you should take when choosing your overseas shipping services:
1. Get Several Quotes
Get competitive quotes from various shipping companies and compare their services, prices, and reviews for the best overseas shipping company for your business needs. It can be tempting to choose the cheapest service available. Keep the old adage, "you get what you pay for" in mind before you make your final decision. Scope out the services, reviews, and timeline to be sure they will match your needs.
2. Choose a Reputable Company
Find a reputable company that is well-established in trading goods internationally and has experience dealing with overseas shipping methods. Experience in overseas shipping services is invaluable should unexpected circumstances arise. A company with years of experience will be able to offer alternate routes and services should there be any inconveniences with your shipment.
Express International Shipping
Do you need to ship something fast? Express international shipping offers expedited services and guaranteed delivery days. For high-value or urgent shipments, express international shipping can be worth the additional costs. Typically, the fastest way to ship is via air.
Do keep in mind that some items including alcohol, firearms, and other hazardous materials may be restricted on flights. So, be sure to discuss the details of your cargo with your shipping company before proceeding.
What You Need to Ship Internationally
When shipping to international destinations, carriers require customers to provide certain documents.
Here's a checklist of the documents you will need:
Required on all dutiable international shipments:
Air-waybill AWB or Bill of Lading (BOL)
Customs Invoice (Commercial or ProForma)
Additional documents that may be required:
Packing List
Certifications of Origin
Certificates and Customs Documents
Letter of Instruction from Shipper
AES or bill of lading
Dangerous Goods Form (optional depending on your cargo)
Documentary Collection

In addition, many overseas shippers have packaging requirements. For example, you may need to ensure that your packages meet weight, height, and width requirements. Be sure to check these requirements and ask for advice before dropping off your shipment.
Most experienced shipping companies will help you make sure you have all of the required documents and meet packaging requirements. Customer service representatives can help you with questions you have about the requirements and documents necessary for overseas shipping. When in doubt, be sure to check with your company so that you won't run into trouble with your parcel or freight.
The Bottom Line on International Shipping
Coordinating an international delivery can be a lot of work! The right shipping company will streamline the process for you, making the process easier for you and ensuring a successful delivery.
Are you looking for an experienced international shipping company who can help you with your shipping needs? We're here to help! Contact us today to discuss your shipping needs. We look forward to serving you soon.