Do you need international freight shipping services?
International freight shipping is a complicated business that may feel intimidating the first time you need to do it. We've got you covered! This post will cover everything you need to know about international freight shipping, what to look for in an international shipping company, and the various types of freight shipping services that are available.
Behind the Scenes of Shipping Freight Internationally
International freight shipping keeps us supplied with our favorite foods and products on a daily basis. It almost feels like magic that products from Asia can easily be found on our supermarket shelves here in the United States. Yet, it takes a lot of logistics and coordination to make international shipping possible.
Get ready because we're about to pull back the curtain on international shipping services so that you can understand how it works. First, let's take a look at how a typical international shipment takes place.
Sample International Shipping Process
If you drop off your international shipments and then don't hear about it until they reach their final destination, here's what's happening in that in-between time:
Step 1: Export Haulage
In this first step of international shipping, your shipper moves your container load to the origin warehouse. Typically, this leg of overseas shipping is completed by trucks. In some cases, it may be completed by rail, especially if the shipping containers must travel a long way to a port.
Step 2: Origin Handling
Upon arriving at the warehouse, the container load is checked in and prepared for the next leg of the international freight journey.
Step 3: Export Customs Clearance
Because the final destination is overseas, customs documents must be filled out and arrangements must be made for crossing international borders. That way, the air or ocean freight will leave the exporting country and enter the destination country with no problems.
Step 4: Ocean or Air Freight
Typically, international shipments are shipped either through air freight or ocean freight services. Many factors come into play when choosing between air freight and ocean freight. Ultimately, it comes down to the budget, timeline, and availability of these two shipping services.
Step 5: Import Customs Clearance
Upon arrival in the destination country, customs must be cleared. Sometimes, a container load may be inspected as part of routine checks.
Step 6: Destination Handling
In this step, the freight shipping services transfer the cargo to the destination warehouse. The recipient company will inspect that the international shipment has arrived safely and that all containers or packages are accounted for.
Step 7: Import Haulage
This is the last leg of the international shipping services. In this step, the final delivery is made to the address listed on the shipment. If you've requested door to door service or if the international destination is remote, this step may also include several stops at warehouses. Typically, import haulage is completed overland by trucks or rail.
As you can see, international freight shipping is a complex process that includes many important steps. For this reason, it's important to select your
Types of International Shipping
Now that you know how freight shipping services work, it's time to learn about the types of services available. When you need to ship internationally, it's important to consider things like your timeline, budget, and the logistics of the origin and destination countries. Here are the basic types of international freight shipping services:
Air Freight Services
Air freight is ideal if your overseas shipments are urgent and the size of your shipment is small. Typical maximum pallet sizes are 96 inches by 125 inches. If you're shipping less than container load, this service may work well for you. However, it's unlikely that you can ship a full container load via air freight.
Ocean Freight Services
For shipping a full container load or more, or port to port services, ocean freight is the best option. Ocean freight typically takes longer than air freight. Not only does ocean freight travel slowly, but there may be waiting periods as the ship is filled and emptied at the ports.
Rail Freight
International freight within continents that feature many countries can easily be done via rail. Or, a section of your international transport may be completed via rail. Imagine that you ship from the United States to Spain, but your final destination is Germany. Your shipment may travel from Spain to Germany via rail.
Road Freight
When you ship overseas, it's natural that part of the journey is completed by trucks. For example, when your shipment is transferred from the port to the final destination, it's likely done via road.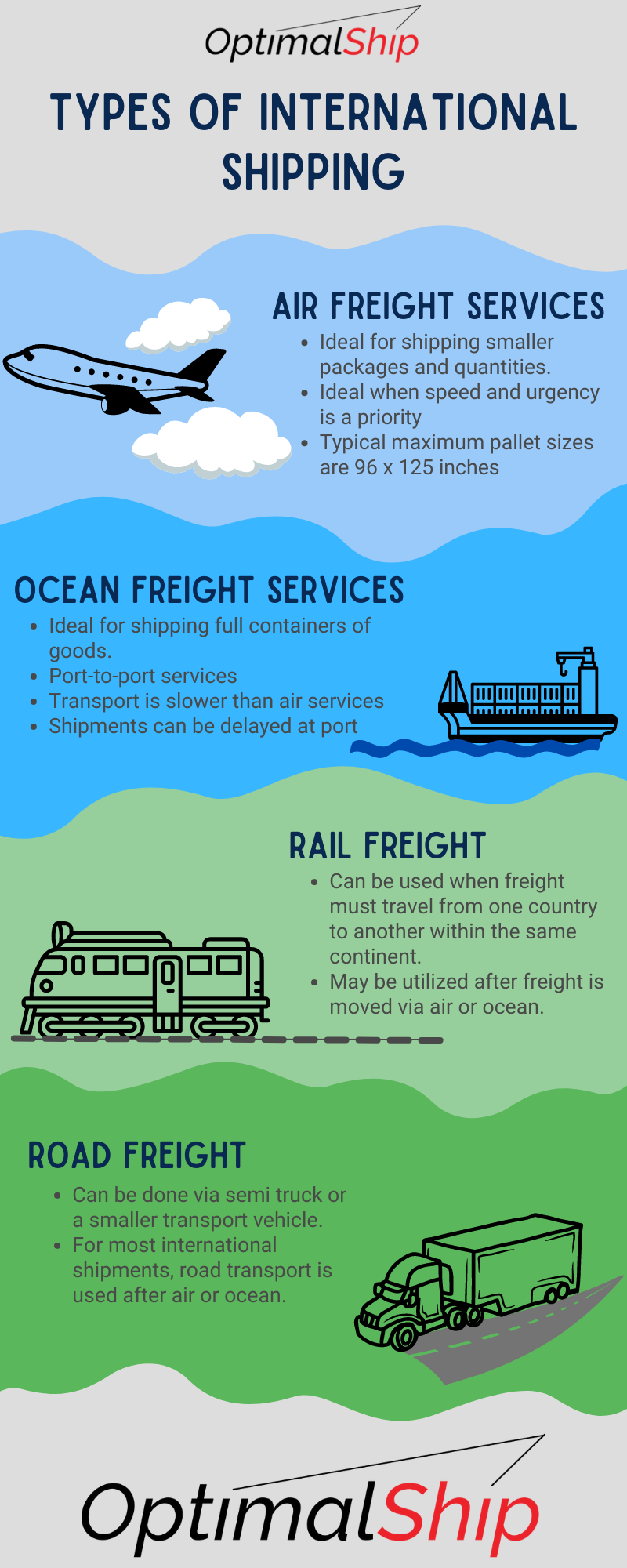 What to Look for in an International Shipment Company
Naturally, you want to find a quality international freight company that you can work with to achieve a hassle-free experience. Here are a few things to look for when considering your shipping options:
A Good Reputation
Today, when you look to book any service, it's easy to look up customer reviews that evaluate everything from customer service to how reliable the business is and the range of services offered by the carrier. After vetting the carrier based on reputation, it's time to consider other factors.
Works with Major Cities Worldwide
Shipping companies work with freight forwarders to make deliveries across the globe. Make sure you work with a business that has a strong worldwide network. That way, no matter where you open your next store or find your next partner, you'll be set for shipping.
Policies on Hazardous Materials
Some items are considered hazardous for international shipping. Double-check that the service provider you're interested in working with will be able to transport all of the necessary items.
Full Range of Services
Not all carriers are created equal. Make sure that your chosen provider can help with things like document preparation for customs, storage, delivery to remote locations, shipments tracking, insurance, and more.
Management of Oversized and Heavy Items
If you need to transport freight that is larger than average, will this carrier be able to handle it?
Responsiveness
Test out the business's customer service by contacting them. A quality freight service supplier will offer timely, polite communication and various methods of communication.
As you can see, international freight shipping is an involved process with many steps, players, transportation methods, and paperwork to complete. Working with a quality international freight shipping carrier can go a long way to keep your business running smoothly.
Do you need a quote for your international freight shipping needs? Contact us today! We'd love to hear from you.