International shipping is a little bit confusing, especially since you have to consider your country AND the country you're shipping to. Everyone has different rules and considerations, but there are a couple of guidelines that just about everyone should follow. We've outlined these here for you.
1. Open an Account with One or More International Shipping Companies
The biggest companies that ship internationally are FedEx, DHL, and UPS. While these companies try very hard to provide international shippers with all the resources they need, including discounts and a host of international shipping tools, international shipping is often still a little difficult to understand. If you need a more hands on experience, we recommend signing up with a company like OptimalShip that can complete the documents and pick-up for you based on just a few details about your shipment. If you're not using a third-party service like ours, we suggest opening multiple accounts and price checking every time you ship to ensure the best rates for the fastest speed.
However, if you have a good grip on HTS codes, export compliance, valuing an item, and how to construct an export or import form, simply signing up for a FedEx, DHL, or UPS account will often give you the tools you need to start shipping.
2. Is Your Commodity Shippable?
Almost all countries have restricted and prohibited commodity lists. Whether this is because the good is considered dangerous or whether it's because the country just doesn't want the commodity to come over their borders, it's your job to make sure you can ship your product.
In addition, some countries are embargoed, and no shipments are allowed from the US, period.
The embargoed countries and prohibited and restricted lists change regularly and from country to country, so check the country you're shipping to every few months to make sure you don't ship something only to have it returned (a costly mistake indeed).
3. How are You Going to Ship Your Product?
Once you determine if your product is freight or a package – items over 150 pounds are considered freight – it's time to determine how you want to ship. There are many options, all the way from air express to by-sea shipments that take a month to get to their destination. Depending on your choice, you'll need different documents and you'll need to ensure there are no restrictions on your specific method of shipping.
4. Paperwork Prep
Paperwork is the most important part of international shipping, but it's also the most tedious. You'll need some essential elements to complete your paperwork accurately. Here are the basics:
Use the HS code finder to find and confirm a code. These codes are used to track which commodities are being shipped to and from the U.S. to track international trade.
Assess the value of the item you're exporting. You should base value off what it would cost to replace the item, the condition of the item, and what the item was originally worth. Most international shipping documents will need this information, and the value of the item is what duties & taxes are usually based on.
Decide who is going to pay the duties and taxes – you or the receiver. Duties and taxes can be tricky to estimate, especially since every country is different.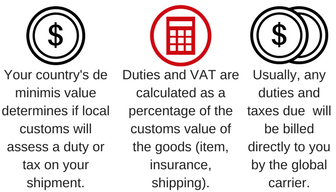 5. Complete Your Documents
Where and how you'll complete your documents is based primarily on the service you are using. DHL, FedEx, and UPS all have their own international document portals and have different processes for completing paperwork. However, the forms that they use, while branded for their company, are more or less the same and will generate the same documents that include the HS information, value information, postage, weight, and shipper/receiver information on a pro-forma or a commercial invoice, depending on the product and the reason it's leaving the country. Sometimes, a Certificate of Origin, a packing list, or an EEI will need to be included.
6. Send it on its Way
Once your package is packed up and labeled with the right documents, simply schedule a pick up or drop it off at a location that accepts packages that are from your carrier (many mail stops will do this!).
These 6 steps can help your package reach it's destination -- and ensure that the shipping process goes more smoothly for you, no matter where you are sending your package. We are here to help along the way. Please contact us with any questions you have on international shipping.
Is international shipping still confusing for you? Check out our checklist!