DHL introduced an Emergency Situation Surcharge (ESS) back in April of 2020. Today they have announced new changes that will be effective as of May 24th, 2020.
What has changed with ESS?
ESS Is now applicable to all TDI shipments in all lanes.
ESS is no longer restricted to CN and HK origin shipments.
Fuel Surcharge to be applied on the ESS fee.
Applicable to all billing types. (Outbound, IMP, 3rd Country, Cash)
Overview of revised ESS
Here are the adjusted surcharges per origin and destination combination. Please note that this rate table is based on USD per kg or lb.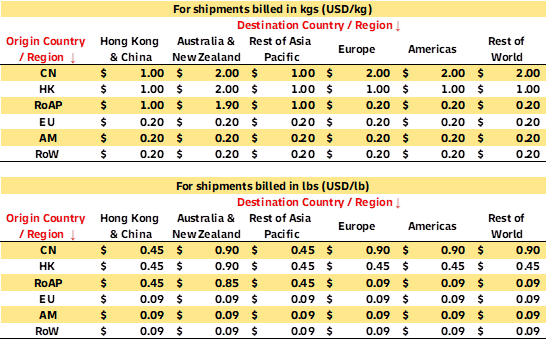 In what circumstances will the surcharge apply?
The Emergency Situation Surcharge will continue to be applicable to all Time Definite International (TDI) shipments.

The ESS will not be applicable to Day Definite International (DDI – road) or Time Definite Domestic (TDD) shipments. Life Sciences and Healthcare customers and DHL Medical Express (WMX) shipments continue to be exempt from the ESS.
Latest Network Updates
You or your shipping service will receive emails with any new information. You may also check DHL's online information service.