If you ship to China regularly, you know well that the Chinese New Year impacts international shipping during the holiday. If you plan on shipping to China or Southeast Asia soon, here's what you need to know about the Chinese New Year, closures, and DHL's hours during the holiday. If you are new to shipping to China, here's some important information for you. And, whether or not you ship to China, I'll share a checklist for shipping during any holidays that impact countries you export from and to that you can keep on file.
The Chinese New Year
The Chinese New Year will begin on Tuesday, February 5th and celebrates the start of the new year on the traditional Chinese calendar. It will be observed officially in China, Hong Kong, Macau, and Taiwan from Monday, February 4th until Sunday, February 10th and then again for the Lantern Festival (and official end of the Chinese New Year) on Tuesday, February 19.
The Chinese New Year, and similar New Year's Holidays, are also celebrated during this time by a number of other countries in Southeast Asia. This widely celebrated holiday can greatly impact your business.
So what is this holiday that shuts down so many businesses during China? It's a Spring Festival, traditionally celebrated with family gatherings, including meals where dumplings are featured, visits to family and relatives, dragon and lion dances, cleaning home thoroughly in preparation for a year of good luck, giving red envelopes, and decorating windows and doors with couplets, and setting off/watching fireworks. Many people travel to China for this celebration each year. And so you are up-to-date, 2019 is the Year of the Pig.
As the Chinese government gives more than a week off for official holiday observance, many businesses in China are closed, including customs. If you ship to and from China, you will need to take note of DHL's hours as well.

DHL's Hours & A Word to the Wise Shipper
DHL Express and many of the companies they service will not be open. DHL Express states, "please be advised that DHL China will be closed from February 4th to February 10th due to Spring Festival Holiday, on February 11th the operations will continue as normal."
As DHL China will be closed for a week, we suggest that you get your orders in early, if possible. Even though DHL in the United States and many other countries will be open during the Chinese New Year, it's important that you don't have urgent packages or shipments to China or Southeast Asia delayed. The earlier you can get your orders in, the more likely your shipment will arrive before DHL China closes. If you are not able to get your shipments in early, know that delays during this holiday may occur.
Here our 10 tips for shipping during the holidays: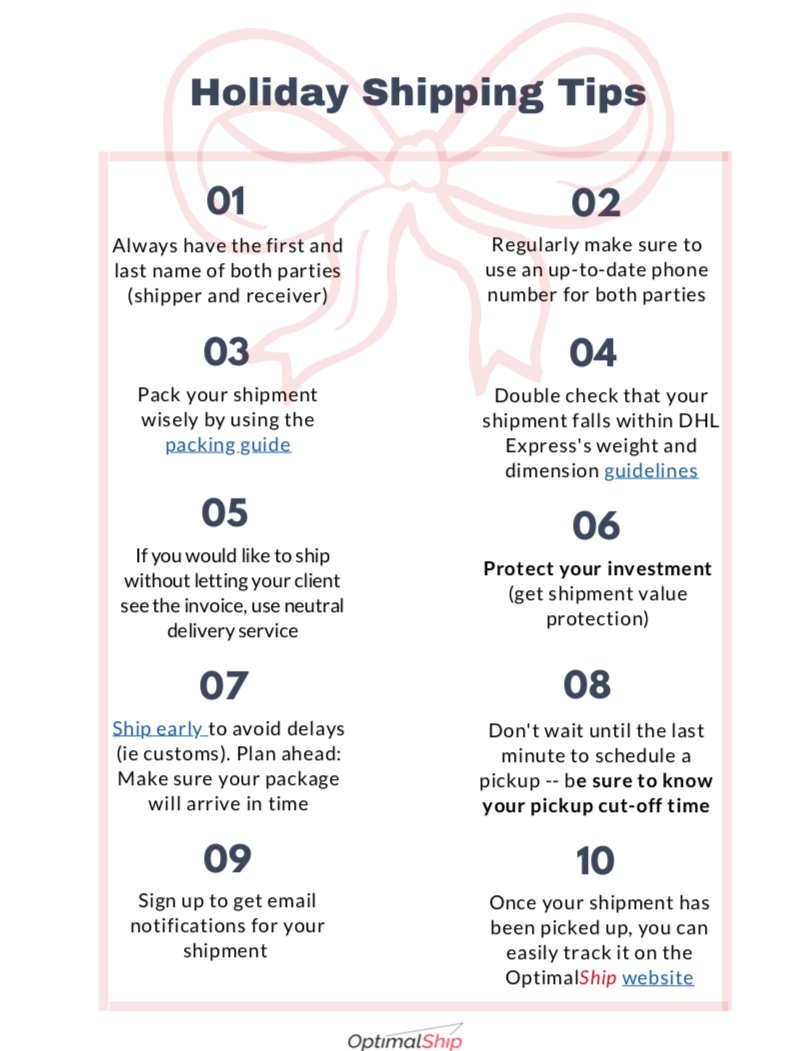 Even if your shipments are not impacted by the Chinese New Year, this is a great tip sheet to have on hand to use before any major holiday observed in any country you are importing to and exporting from. So here you go. It's free, of course. Just click on the image of the checklist above or the green button below to download a pdf version for your files.
Also, happy Chinese New Year! We wish you a wonderful year. Are you celebrating? Do you have any tips for other business on shipping during this time frame and strategies that have worked (or not) for you? Let us know in the comments.
Cheers!