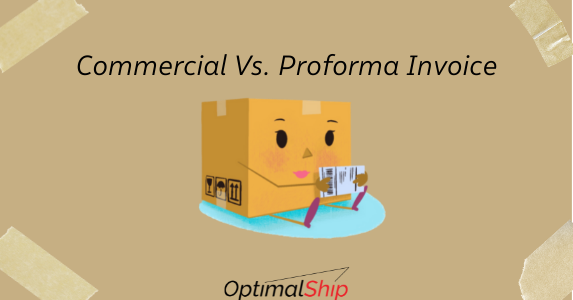 When a shipment crosses an international border, it goes through the customs clearance process where the country's import laws are enforced, and duties and taxes are assessed. There are two types of invoices that can be created for an international shipment and this article will guide you through which one you need to make. Some shipments are obviously commercial since they are being formally purchased from another country and will be subject to duty and tax. Others have nominal value or are not for resale, regardless of their value; these shipments might not be subject to duty and tax. The biggest role that an invoice plays in customs is to aid customs agents in enforcing duty and tax laws.
What is a Commercial Invoice?
Most people think of a bill that needs to be paid when they hear the word invoice; but in international shipping, it has a different meaning. A commercial invoice is an itemization of a shipments' contents and lists the value of each piece. Customs agents use this document to determine the amount of duties and taxes to be assessed on the shipment. Each country has its own individual laws; the duties charged for a commercial shipment to Spain could be entirely different than the duties assessed for the same shipment going to Australia.
What is a Proforma Invoice?
A proforma invoice does the exact same thing as a commercial invoice but indicates to customs that this shipment should not have duties and taxes assessed because the items are not for resale. Examples of these types of shipments are: samples, items sent for repair and return, personal belongings shipped to a foreign country, or gifts. Using a proforma invoice does not guarantee that the shipment will not be taxed since customs agents makes the final decision; it just speeds up a customs agent's decision to tax it or not.

Do All Shipments Need Invoices?
No. Document shipments do not require either type of invoice since they don't have any commercial value. Document shipments only require a shipping label to be shipped internationally.
Which One do I Need?
As you examine the commodity that you are shipping you can usually tell which type of invoice you need. If the items are bought or sold commercially, then it goes with a commercial invoice. If your shipment is a gift, return for repair, sample, or personal items then you will need to prepare a proforma invoice. The general rule of thumb for using a proforma invoice is "If you think that there should not be duties or taxes assessed, then make a proforma invoice". Otherwise, make a commercial invoice. Please keep in mind that customs agents do have the final say regardless of invoice choice.
How do I make a Commercial or Proforma Invoice?
There are a few ways that you can create your invoice. Let's look at each option.
First, you can make your own invoice using a carriers' website. Here at OptimalShip, you can use our website to create your commercial or proforma invoice. That's not all this website can do though; you can get all your shipping needs taken care of in the same place. You can also create your shipping label, certificate of origin, schedule your free pickup from your business location and use our other online tools.
Second, you can have a professional make your invoice. OptimalShip is here to help make the international shipping experience easy and pleasant for you. We can take the information about your shipment and generate a customized commercial or proforma invoice that is designed to get through customs. With 11 years of experience in creating invoices for our customers, you can trust that you will have a good experience with the customs clearance process.
Third, you can create your own using an online template. There are many online platforms that can provide you with a template to use for your commercial or proforma invoice. This can be a great option for someone that has a lot of experience in international shipping. If you are new, I would recommend using your carriers' website or calling us here at OptimalShip.
International shipments have to cross country borders, so the contents have to be examined by customs agents. These agents use commercial and proforma invoices to determine duties and taxes. To decide which invoice to create, just examine your shipment and whether or not it has commercial value. OptimalShip is here to make your life easy in regard to international shipping! Just hop on our website or give us a call at 972-383-9901 and let us show you what we can do for you.