One thing is for certain: when you're shipping things across country borders, it can get expensive before you know it. Shipping internationally is a big unknown for a lot of people. Often, before they even ship anything, they wish to know a cost associated with their export so that they can properly plan for that charge.
Unfortunately, estimating the cost of shipping internationally is more difficult than it seems in the beginning. It isn't as simple as knowing where the package is going, though that's often a great place to start.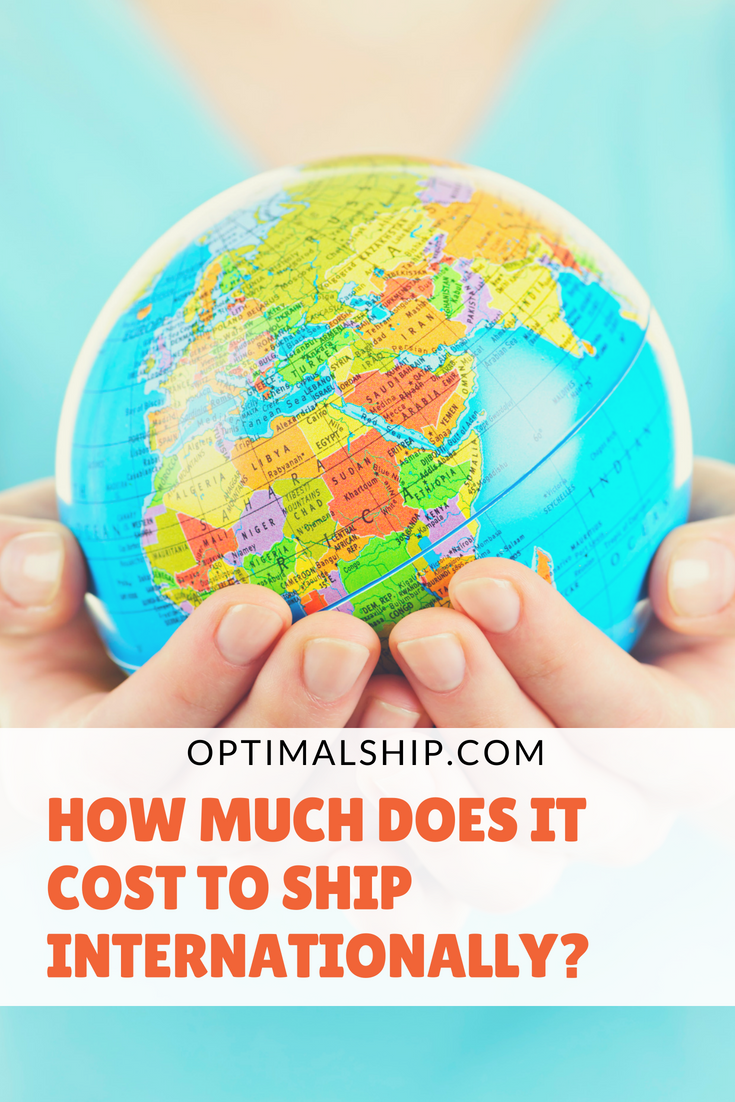 Where is Your Export Going?
Where is your package going? Costs vary greatly from country to country, especially when it comes to packages. For example, it will cost more to ship a package to Iraq than it will Egypt, because Iraq is a restricted country that has surcharges and elevated risk charges associated with it that Egypt does not. These surcharges can change from year to year as the status of certain countries changes but generally range from $30 - $150 per shipment.
In addition, some countries are embargoed by the UN Security Council, and goods may not be shipped to these countries under most circumstances. FedEx has complied an excellent resource that they call Country Snapshots that give some basic details on each country and their restrictions and requirements, which you can access here.
Simply put, to start the shipment process, you'll need to know where your item is going so that the proper additional charges are applied if necessary.
Are You Shipping a Product or Documents?
If you are shipping documents to another country, the process is much more straight-forward and predictable. Documents are not subject to duties & taxes or elevated risk surcharges. They also do not need a pro-forma or commercial invoice past what is included on the label when it is generated if the documents have no monetary value. For example, if you are shipping information to a potential buyer, or submitting documents to the country for approval, these shipments do not generally have any more monetary value than the paper they are printed on, even though they are important.
If you are shipping passports, checks, or other documents that may have a monetary value, then the rules differ some, and these documents are sometimes subject to surcharges and taxes & duties depending on the country.
If You Are Shipping Products…

To get an accurate estimate of how much a product is going to cost to ship overseas, you'll need some more information about the size of the shipment, including:
Dimensions of the shipment (if it is multiple boxes, the dimensions of each box will be required, unless the shipment is bundled together into one large package)
Weight of the shipment
What is being shipped
Simply put, a quote cannot be generated if you do not know how large your shipment is and how much it weighs – this is a universal standard, and all carriers require weight and size before they can provide a quote or shipping price details.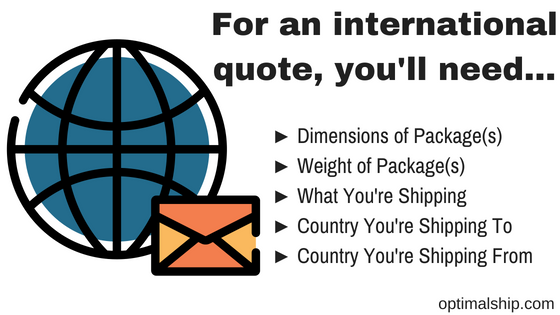 Where are You Shipping From?
Sometimes you will be shipping from one country to another, and you don't live in either country. While this is fine, it is also important to know the basic export laws of the country you're shipping from as well as the import laws of the receiving country.
How Fast Do You Need Your Export to Arrive?
Services like DHL Express can get a package or shipment from one location to another in days, if not hours. On the other end, there are shipments that can take 30 – 45 days and are shipped via cargo ship. Sometimes, speed doesn't matter and these slow and steady services are ideal; however, if you have documents that need to get to their destination in time for your sister's wedding, then speed is of the essence. It goes without saying that faster shipments are often more expensive. However, the time spent in transit is much shorter, making it less likely that your shipment will become lost or damaged en route.
Which Carrier are You Using?
Now that you've gathered enough information to get an accurate shipping quote, it's time to decide which carrier you'll want to use. We've listed the most commonly used carriers below, in addition to information on how to get a quote.
DHL
DHL is exclusively an international shipper; they have no domestic services available. Because of this, they are often very accurate and fast because they are an expert with international shipping. DHL can get into some parts of countries where other shippers are not welcome. DHL specializes in express and, in some cases, same-day deliveries.

You can simply call us for a quote on these services if you are in the U.S. -- and we can help you get a discount as well.
FedEx
FedEx is also a very dependable international shipper and they have an extensive and useful online quote tool that can be used to retrieve and save detailed quotes. You can either ship without an account number (meaning you are subject to their regular rates) or quote a shipment with an account number that has special rates attached.
You can access the quote tool here on their website. You can quote packages, freight, documents, and more; FedEx has a versatile assortment of services available.
UPS
UPS is another option for international shipping. Like FedEx, you can log-in and get an accurate quote with your personal rates, or simple do a generic one based on the weight and dimensions of your package or shipment. UPS offers 1 – 3-day services as well as UPS Ground, which can take several weeks to arrive.

Their quote tool lacks the finesse of FedEx's; however, it does the job and can be accessed here.
USPS
USPS will only work when you are shipping exports from the United States. In addition, their services end once the export has cleared customs on the US side, meaning that another partner carrier handles the package once it gets to its destination country. Tracking does not continue once it is out of the United States.
USPS is often the cheapest way to ship something, especially if you do not have exclusive discounts with the other carriers. If you're going for speed, choosing any other carrier may be a better option, even if there is an added expense.
To get a quote for USPS international shipping, you can visit their website here. They have several international shipping options but do not offer freight or large overseas shipments.
How do you ship your exports?

We know that international shipping can be complicated and confusing, so we've created an international export checklist for you to help you get your shipping ducks in a row.